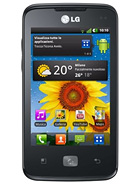 j
this is the photocopy of motorola fire xt nothing to difference all copy of motorola fire xt531
s
AnonD-21310, 14 Sep 2011Nothing has changed since lg optimus one -_- ... Way to go LG... My first android phone was l... moreHow do you mean nothing has changed? The camera has changed. LG Optimus has a 3 megapixel camera and the LG Optimus Hub a 5 megapixel camera. Optimus One does not have gorilla glas, Hub does. The processor is faster and it's a decent midrange phone. He price is low, so you can't expect high end performance. I think LG Optimus Hub is a decent successor of LG Optimus One.
D
Nothing has changed since lg optimus one -_- ...
Way to go LG... My first android phone was lg optimus one and by watching lg's progression in smartphones, i will never buy an lg phone again... Will wait for android jelly bean and buy an HTC or Samsung smartphone...
A
I have it and it has multitouch, it is a very nice phone, is other class than p500
h
Anonymous, 12 Sep 2011Too late. SG ACE still better.u r absolutely right as lg optimus hub does not have multi touch and its colours in screen are also less than a king which is galaxy ace galaxy ace also has been updated to 2.3.4 by kies in every country
I
Anonymous, 13 Sep 2011cheap makeover of samsung galaxy ace and too lateHi there,

U R Correct Dear...

but still Some stuff is better than Ace, but on Good Looks This one just S***S Big time...

Pros of HUB>>
Better Software on launch,
Better RAM,
Better Battery...


I
This is a BIG competition to SAMSUNG GALAXY ACE, but our main requirment is Gooks Looks along with the Specs... Ace is Incredibly nice in looks as compared to this,

However Plus points as compared to Ace are DIVX Support and better RAM

But Ace from is Samsung and Looks are much much better...

Rest almost same...

What Do Yougs Say???
S
Lovely. .just price it lil below ace n samsung not stand chance:) it has default avi divx player plus a 1500mah battery plus gingerbread.it just lacks flash but still quite better than ace.Pls lg price a lil low
n
no...this hub is better than ace...ace has less ram...only in flash led the ace win, because this hub looks pretty nice...+ is cheaper than ace.

sorry bad english
D
Overall it do have good specs, a nice successor after Optimus One. But it will not support Adobe flash player.. =( this could be a disadvantage. An almost same on its rival, Samsung Galaxy Ace ...
?
So its basicly a samsung galaxy ace in different clothing then.
Not really suprised by the specs, but you would have thought lg would try a little harder to outshine compition. However its has the same ingrediants and the ace has been a hit, so maybe this could do just aswell.
Total of 735 user reviews and opinions for LG Optimus Hub E510.