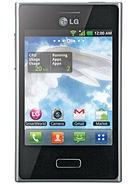 e
I think LG HAVE TO CHANGE in their logo on the phones,,, they have to give only symbol of lg on the backpanels like apple gives, it will look much better & will feel like popular brand......
e
will it be available for all countries or any specific network ???????? on first look, looking boring front look and looking good on backlook......

Z
wtf , QVGA on 3.2inches screen, sure 2 be a cmpetitor of galaxy y but could be better if d resolution is bigger say, 320 * 480..and d battery should last longer because samsung G Y has a very poor and worst battery bck up.
?
Great metal design, very good spec for the price range. Hope it brings a good clock speed...
m
wow, it looks very attractive! kinda like prada mini. anyway where did this phone came from, i didnt hear announcements. i'd totally like to buy it
D
very nice looking entry level smartphone from lg. hope it will be released under 5k here in the Philippines, that will be a sure hit! (it'll kick sgy's butt)
Total of 2951 user reviews and opinions for LG Optimus L3 E400.