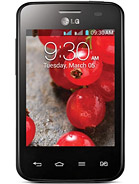 r
how is browsing speed , downloading spped.
Which one better for internet browsing.
1.lg l3 435
2.micromax a51 bolt
3.samsung young/fame

S
lg co.in, 13 Apr 2013yes it has , and it is a very good phone for every thing or it is game,music,apps,and all........ moreThanks to reply :-)
l
Salman , 12 Apr 2013does it suports mid-range games like tample run 2 & asphalt 7yes it has , and it is a very good phone for every thing or it is game,music,apps,and all.....
important thing ti has andrid 4.2.1 jell been....!
R
Been using it for a whole week...
The good :
- loud ringtone and earpiece (great for telephony function)
- strong vibration
- great battery life after last firmware update (approx 2 full days)
- great build quality.. I use the white one, love the matte back cover, feels nice in hand
- jelly bean is running quite smoothly (do not compare it to multi core high-end phones, mind you)
The bad :
- low res screen (obviously)
- no backlight on the capacitive buttons.. This is the most disappointing aspect of this phone, since I often use the phone in the dark
- relatively weak signal reception compared to other phones (eg.samsung) but not by much
For US$135, this is a very nice phone. Recommended.
Regards from Indonesia.
Total of 352 user reviews and opinions for LG Optimus L3 II Dual E435.