Straightforward gallery
The Optimus L7 uses the standard Android gallery. It automatically locates images and videos no matter where they are stored. By default, images are sorted by albums, but you can sort by location or time as well.
The different sets are tiled neatly across the screen, and opening the contents of a group of photos causes them to transition into the same grids.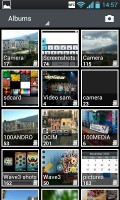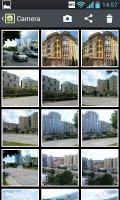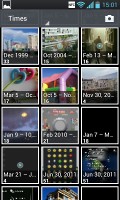 The Gallery can be sorted by albums, location or time
Once selected, you can view an image close up by pinch zooming or double tapping on the desired area. There is a sliding gallery along the bottom which allows you to quickly browse other images in the album. On the top there are three shortcuts for quickly sharing, editing or deleting the selected photo. There are plenty of editing options available, ranging from photo effects to cropping and rotation to red eye removal. The Send feature offers quick sharing via Email, Google+, Picasa, Memo, SmartShare or Bluetooth.
The Gallery app displays images in full resolution. Zooming and panning is fast and smooth and there's little to no lag when doing it.
Functional music player
The music looks similar to the typical ICS version we're all familiar with. It can do the usual filtering by album and artist and you have alphabet search and regular search for finding songs quicker.
The Now playing interface places a big album art image in the center with controls above and below it. Swiping the album art left or right is the easiest way to skip songs back and forth.
A press and hold on the album art will bring up a search menu, if you need to look up the title, artist or the album. After that you can pick where to search - your music collection, YouTube or a general Internet search.
There are equalizer presets which become available when you plug in a pair of headphones.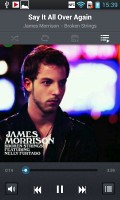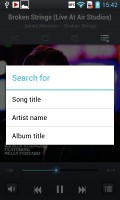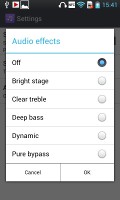 The Now Playing screen • The Search feature • Equalizers
When you're playing a song it also gets displayed in the notification area, where you can pause and change tracks.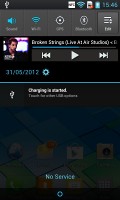 Music controls in the notification area
FM Radio, but no RDS
There's an FM radio on the LG Optimus L7, which can play over a set of headphones or the loudspeaker, but the headphones need to be plugged-in either way (they act as an antenna). You can also scan for radio stations, and save up to 48 channel presets. There is no RDS support though.
Video player is not the best
The video player has a fairly simple interface, giving you just a list of all the videos on the device. There's an alphabet scroll to help users locate videos faster but that's about it - you can't pinch to zoom out for a more comprehensive view. You can of course play videos from the Gallery if you prefer its folder-centric organization.
The interface during playback is nothing overcomplicated either - there's the scrubber for jumping to various parts of the video along with the play/pause button and next and previous buttons.
While you're viewing a video, there are a few options provided by the contextual menu. These include the ability to adjust the screen ratio and brightness of the displayed video, as well as an option for sharing it by SmartShare or viewing its details.
The LG Optimus L7 handled most AVI files using DivX and XviD encoding we threw at it, as well as the usual 3GP and MP4 stuff. It also lets you register your device for playback of DivX protected videos. The huge exception here is that the L7 does not support 720p or 1080p video playback, so while filetypes were not a problem, video resolution was. Also, there is about a one second delay when switching between portrait and landscape viewing, during which the video and sound freeze.
Subtitles worked fine, with settings for color, font and size. You can toggle subtitles on and off, but there's no option to manually point to a subtitle file, so the subtitle filename has to match the video filename. We tried a few types of non-English and non-Latin alphabet subtitles and they were all handled properly.
Audio output good for the class
The LG Optimus L7 did decently in our audio quality test. The mid-range droid is hardly going to become the audiophiles' favorite, but should do fine for everyone else.
When connected to an active external amplifier, the Optimus L7 got some pretty impressive scores for dynamic range, stereo crosstalk and signal-to-noise ratio. Its frequency response is spot on for the most part with only a small drop to be noticed in the extreme bass frequencies.
The unpleasant consequences of connecting a pair of headphones to the Optimus L7 include a major increase in stereo crosstalk and a minor hike in distortion levels. Strangely enough, dynamic range also deteriorated, but the overall performance still remained passable.
Check out the table and see for yourself.
| | | | | | | |
| --- | --- | --- | --- | --- | --- | --- |
| Test | Frequency response | Noise level | Dynamic range | THD | IMD + Noise | Stereo crosstalk |
| LG Optimus L7 | +0.12, -1.23 | -85.2 | 86.5 | 0.019 | 0.107 | -84.3 |
| LG Optimus L7 (headphones attached) | +0.12, -1.27 | -85.6 | 76.3 | 0.030 | 0.254 | -40.7 |
| LG Prada 3.0 | +0.11, -1.06 | -85.5 | 84.2 | 0.014 | 0.023 | -83.3 |
| LG Prada 3.0 (headphones attached) | +0.11, -1.06 | -84.5 | 83.8 | 0.011 | 0.021 | -32.3 |
| LG Optimus 3D Max P720 | +0.11, -1.05 | -89.1 | 89.3 | 0.0073 | 0.012 | -83.2 |
| LG Optimus 3D Max P720 (headphones attached) | +0.31, -1.00 | -88.8 | 89.6 | 0.014 | 0.172 | -33.0 |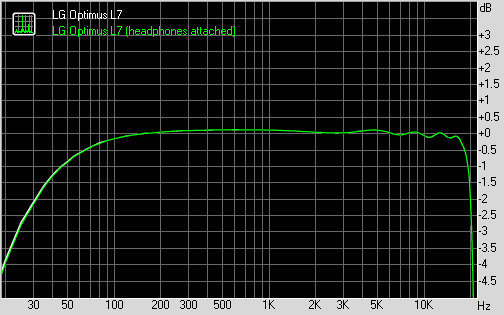 LG Optimus L7 frequency response
You can learn more about the whole testing process here.