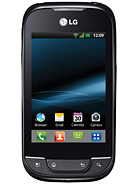 D
The way i see it this phone is only here to REPLACE Optimus one in the market literally...Its NOT going to be an upgrade to existing Optimus One customers....Its price tag suggests everything......But LG should back it up with 1Ghz Midrange phone too to give stiff competetion to SE and Samsung in Lower-mid to Mid range

PS:Optimus one looks much better than Net i guess....LG should concentrate a little more on designing....
D
Only upgradation is higher CPU clock speed and RAM.. Nothing new in other specs.. I think this phone not going to succeed like optimus one..
y
My o1 looks effin better than this. O1 has 170 internal. Mine is overclocked at 806mhz. Got gingerbread and uhmm. What am i missing? Hmmm none, that optimus net seems to be losing the divx and xvid support though..
P
luckily I didn't buy optimus one.. wow.. I'll buy this soon.. cheers
Total of 1706 user reviews and opinions for LG Optimus Net.