One and a half
LG Optimus One P500 review: One and a half

Image gallery with 3D effects
The LG Optimus One uses the standard Android gallery. The gallery automatically locates the images and videos no matter where they are stored. The gallery boasts cool 3D effects and transitions, which we find rather attractive.
Images and videos placed in different folders appear in different sub-galleries that automatically get the name of the folder, which is very convenient - just like a file manager.
The different albums appear as piles of photos, which fall in neat grids once selected.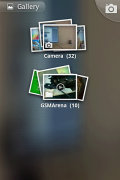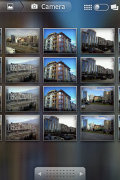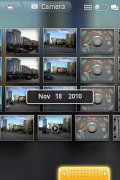 The gallery certainly is a looker • sorting by date
Alternatively, you photos can be organized by date with the help of a button in the top right corner which switches between grid and timeline view. In grid view, there's a date slider, which can also be used to find photos taken on a certain date.
The pinch zooming is also available here thanks to the Optimus One multi-touch support but you can also use double tap or even the +/- virtual buttons.
There are tons of options for a picture – you can crop or rotate it directly in the gallery. The Send feature offers quick sharing via Facebook, Twitter, Picasa, Email apps, Bluetooth or MMS.
Zooming and panning is fast and smooth, but there's a perceptible lag until the actual panning (or zooming) starts, which is slightly annoying.
Same old music player
Sadly, the music player saw no updates in Android Froyo. The music player is not too bad at managing your audio files but there's definitely room for improvement.
The interface uses four tabs, which offer the four main ways to search your music collection - by artist, album, song or the playlists you've created.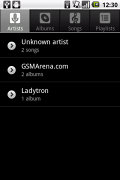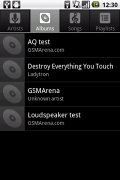 The music player saw no changes
There's a handy feature that allows you to quickly look up a song on YouTube or via Google search by holding down a finger on a song.
You can use the search feature to quickly find songs by gradual typing. The now playing list can be easily reordered (by holding the "handle" on the left of each song) and you can also toggle shuffle and repeat modes.
The stock music player lacks an equalizer and alternative visualizations, which is a disappointment.
FM Radio with RDS
The LG Optimus One P500 is equipped with an FM radio too. The interface is simple – there's a tuning dial and you can save as many as 48 stations as favorites. You can also listen on the loudspeaker, but the headset is still needed.
Decent audio quality
LG Optimus One P500 is a decent performer as far as audio quality is concerned. It may not be the best but it certainly delivers more than its price tag suggests.
When used with an active external amplifier the Optimus One does very well all over the place. Intermodulation distortion is maybe only average and the extreme bass frequencies have been cut off but the rest of the scores are just excellent. Oh, and the LG smartphone is pretty loud too.
When you plug in the headphones there is a notable increase in stereo crosstalk, which is not exactly ideal and the intermodulation distortion raises a bit more too. Volume levels went down and the Optimus One is not much better than average in this scenario. Frequency response, on the other hand, improved slightly.
And here come the full results so you can see for yourselves:
| | | | | | | |
| --- | --- | --- | --- | --- | --- | --- |
| Test | Frequency response | Noise level | Dynamic range | THD | IMD + Noise | Stereo crosstalk |
| LG Optimus One P500 | +0.17, -1.69 | -85.6 | 87.2 | 0.021 | 0.301 | -86.2 |
| LG Optimus One P500 (headphones attached) | +0.19, -1.36 | -85.4 | 86.9 | 0.021 | 0.643 | -46.5 |
| HTC Aria | +0.12, -0.58 | -84.5 | 86.9 | 0.022 | 0.172 | -85.4 |
| HTC Aria (headphones attached) | +0.37, -0.15 | -87.0 | 90.4 | 0.026 | 0.400 | -52.3 |
| Nokia C6-01 | +0.07 -0.37 | -88.2 | 88.1 | 0.0073 | 0.017 | -89.4 |
| Nokia C6-01 (headphones attached) | +0.48 -0.25 | -88.1 | 87.8 | 0.016 | 0.362 | -71.7 |
| Nokia C7 | +0.06 -0.33 | -88.1 | 88.0 | 0.0069 | 0.017 | -88.9 |
| Nokia C7 (headphones attached) | +0.46 -0.21 | -88.1 | 88.1 | 0.017 | 0.362 | -66.2 |
| Samsung S8530 Wave II | +0.02 -0.04 | -90.9 | 90.9 | 0.017 | 0.026 | -92.3 |
| Samsung S8530 Wave II (headphones attached) | +1.21 -0.27 | -90.7 | 90.5 | 0.021 | 0.701 | -49.7 |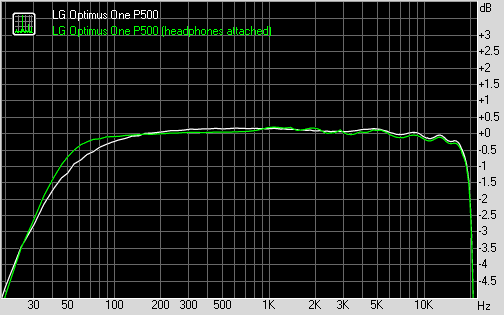 LG Optimus One P500 frequency response
You can learn more about the whole testing process here.
Video player with DivX/XviD support
The video player is fairly simple. It displays a list of all videos on the phone (each video has a thumbnail, which will help you orient yourself) but the search button doesn't work here (there is an alphabet scroller however).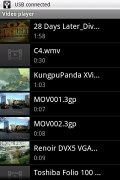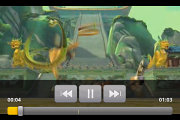 The Video player has a simple interface
Once you start the video you have only three controls – the previous and next (which fast-forward and rewind when you hold them down) and play/pause. You can also scrub through the video with the touch control. What's missing is the crop feature – the video player can't fill the screen by cropping the video to fit.
Anyway, there's DivX/XviD support built-in to go along with the 3GP, MP4 and WMV support. It can only play videos up to a certain resolution – the largest video we managed to play had 640x360 resolution, while a VGA and D1 videos failed to play (with an unsupported resolution error).
The Optimus One couldn't handle large files either but videos under 1GB should be fine. Otherwise things play smoothly with bitrate below 3Mbps.
So, the LG Optimus One P500 is not the ideal media player (the 3.2" HVGA screen with 3:2 aspect isn't very good for 16:9 content) but it can do the job and handle many videos without the need for re-encoding.