Android Honeycomb is in charge
The LG Optimus Pad runs an unmodified version of Android 3.0.1 Honeycomb, which makes it virtually identical to some of the competing devices. The tablet version of Android is powerful enough to handle almost anything.
Android 3 Honeycomb offers a resized user interface to make best use of all the available resolution and screen real estate. The hardware buttons have been replaced with on-screen controls.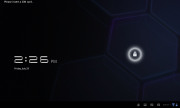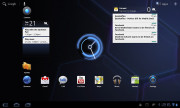 The new homescreen and lock-screen
The Home and Back buttons are in the lower left corner, with a dedicated Task Switcher key right next to them. In part, this is perhaps a move to emphasize the multitasking abilities of Honeycomb.
The Search key has been placed in the top left corner, while the app launcher is now accessed via a button at the top right. Next to it, there's another dedicated button that the smartphone-friendly Android versions lack – homescreen edit.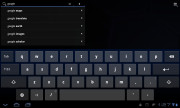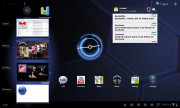 There's a search shortcut on the homescreen too • the task switcher
Finally, we come upon the status icons, which are in the lower right corner. Tapping on any of them will open the notification pop-up. In Honeycomb the notification area doesn't take the entire screen.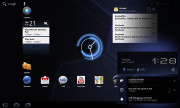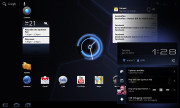 Notifications appear as a pop-up rather than fill the whole screen
The notification area features a shortcut to settings. It is more of a replacement of the connectivity switches that you find in some Android smartphones (such as the Samsung TouchWiz droids), than the real settings menu, which is accessible through the homescreen.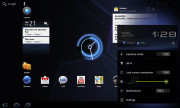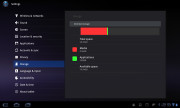 The settings pop-up and the settings menu
Editing the homescreen has also been modified to make better use of the bigger screen. In edit mode you get all five homescreen panes on top with four tabs available at the bottom: widgets, apps, wallpapers and "more".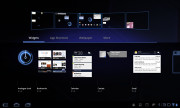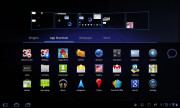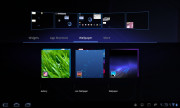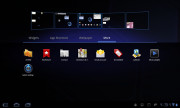 Editing the homescreen is much easier on a tablet
This way you can grab a widget from the bottom tab and drag it to the desired homescreen pane on top. With smartphones you need to scroll if you want to place a widget on any other screen but the currently selected one.
The app launcher has seen some changes too – it's now split in two tabs – All and Downloaded. The first one contains all the available apps, while the second one holds those installed by you. A press and hold on any of them will make the five homescreen panes appear so you can place a shortcut on whichever you might need.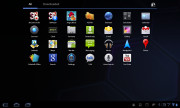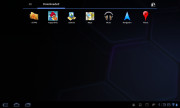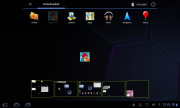 The app launcher now features two tabs • placing a shortcut on the homescreen
Generally, we are pretty pleased with the usability of the Honeycomb interface. It is obvious that a lot of thought went into its design and it really is a notch above the competition in terms of functionality.
Generally, the Optimus Pad did well in terms of handling, though using live wallpaper did cause a lag.
Here go the benchmarks for the number-crunchers.