Contacts: phones but no calls
Contact management is fairly straightforward on the LG Optimus Pad. Your contacts get automatically synced with your Google account unless you explicitly disable this.
The larger screen has allowed some modifications that reduce the needed clicks for some tasks and thus improve usability.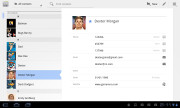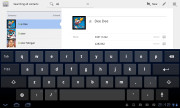 The Optimus Pad contact manager
You now get your contacts listed by either first or last name in the left part of the screen, while the details of the currently selected contact appear on the right. There is a handy search field on top as well as a shortcut for adding a new contact or editing the selected one.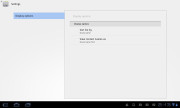 There aren't too many available settings
Since the Optimus Pad has no telephony, clicking a phone number opens the messaging app and tapping an email address or a website automatically launches the email app or the web browser.
Editing a single contact is not the best-looking part of the contact management on the Optimus pad, but at least it's easy to use. You get the available fields organized in groups, with plus and minus signs on the right that let you remove or duplicate details.
There's also an Add another field button at the bottom that lets you insert a filed that hasn't existed so far for the specific contact.
Custom filed names aren't available at this stage.
And here come the Optimus Pad results from our traditional loudspeaker test. The device did pretty bad getting a really low below average mark, that may disappoint some users. You can find more about the test itself here.
| | | | | |
| --- | --- | --- | --- | --- |
| Speakerphone test | Voice, dB | Pink noise/ Music, dB | Ringing phone, dB | Overall score |
| LG Optimus Pad | 64.9 | 61.8 | 65.7 | Below Average |
| Samsung P1000 Galaxy Tab | 66.7 | 64.6 | 68.6 | Below average |
| Apple iPad 2 | 65.9 | 65.6 | 75.0 | Average |
| HTC Incredible S | 66.5 | 66.1 | 76.7 | Good |
| Dell Streak | 70.1 | 75.7 | 80.8 | Very Good |
| Motorola XOOM | 74.0 | 66.6 | 78.9 | Very Good |
| HTC Desire | 76.6 | 75.7 | 84.6 | Excellent |
Simple messaging
We already mentioned the messaging app above. It is pretty simple and lets you send texts to one or more recipients. MMS are not enabled, it's just a simple SMS composer.
Split-screen email clients
The Optimus Pad comes with two optimized email applications out of the box – one for your Gmail and one to use with any POP3/IMAP account.
They both have a split-screen interface. Initially, your folders are listed on the left and the emails in the currently selected one appear on the right. Upon clicking on a single email the list of emails moves to the left tab while the body of the selected one pops up on the right.
Bulk actions are supported too, so you will easily manage mailboxes that get tons of messages.
You can set up the automatic email retrieval interval or you can disable that completely and check mail manually.
There's also a handy setting that makes your client automatically download attachments only when you are connected over Wi-Fi.
It's basically the treatment you get on Android smartphones with a few optimizations permitted by the large screen and higher resolution.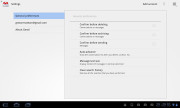 Digging into the settings menu
Writing emails is reasonably comfortable with the virtual QWERTY keyboard occupying about half of the screen. Now this is no match for a hardware keyboard, but you won't notice any big difference when handling short emails.
There's auto correction and auto capitalization available and you can enable sounds on key presses. There's no haptic feedback so it's not perfect just yet, but the overall experience is pretty decent.