5 megapixel stills and Full HD video
With a pair of 3D-enabled 5 megapixel cameras and a 2 megapixel front-facing unit, the LG Optimus Pad is unmatched for imaging skills among tablets. However, shooting with a tablet is hardly the most comfortable thing so we wonder how high Full HD video and 720p 3D clips will rate.
The Optimus Pad's camera interface is quite simple. You get flash settings, white balance, color effects and scenes on a convenient dial as well as resolution settings, picture quality, focus mode and exposure compensation in the extra settings menu.
There are also shortcuts for switching between the two cameras and toggling camcorder and still camera mode.
We're more than pleased with the image quality. The amount of resolved detail is excellent, the colors quite pleasant. The only thing we noticed is the low contrast on some photos, but nothing to ruin your images.
Photo quality comparison
Our Photo Compare Tool proves that the LG Optimus Pad is a better performer than the Motorola XOOM and other 5 megapixel droids.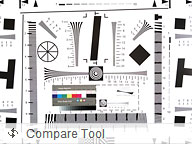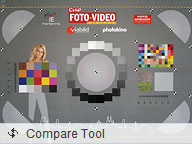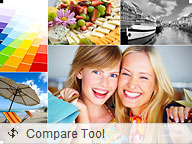 LG Optimus Pad in our Photo Compare Tool
Video recording
The LG Optimus Pad is capable of recording videos up to 1080p. There aren't too many settings available to the user: LED as video light, white balance, color effects, video quality and time-lapse interval.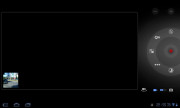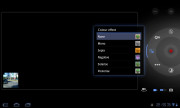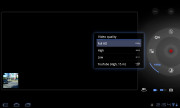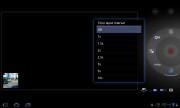 The camcorder interface is pretty similar
The captured videos also turned out quite decent. We noticed a few dropped frames and the contrast is also a bit low as the stills, but the colors and the captured detail are very good.
Here is a sample video uploaded to YouTube.
And here's an untouched video sample taken straight from the Optimus Pad camera for you to enjoy.
Video quality comparison
Here you can see how the Optimus Pad compares to other tablets and smartphones for video quality. The Optimus Pad video quality is on par or better compared to most of its competitors.
Here on the video compare you can notice some strange video defect - a blue line at the top of the videos. Our preview unit didn't have it, so we guess it is a software issue and should be fixed with the next firmware update.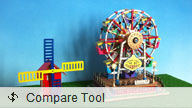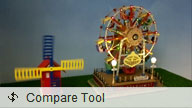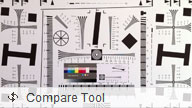 LG Optimus Pad in the Video Compare Tool
3D camcorder and 3D video player
Unfortunately, the Optimus Pad is not capable of taking 3D still images - it has the hardware, but LG didn't provide the software. Still, there is a 3D camcorder capable of shooting 720p 3D videos and a 3D video player to enjoy them.
The viewfinder offers very few options. You get to choose the 3D viewing mode: anaglyph, mixed, single or side-by-side. Generally, you will have the viewfinder in anaglyph mode with 3D glasses, but it's good to see you have options here.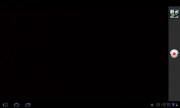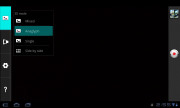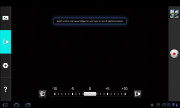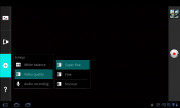 LG Optimus Pad 3D camcorder user interface
You can also set the 3D depth (be careful with that), choose the video quality, set the white balance and turn the audio recording on or off.
And here come some samples from the LG Optimus Pad camcorder. It's not the best 720p footage quality we've seen, but you will hardly notice it when watching it in 3D with or without glasses.
Here is an untouched 720p video sample for you.
To view the samples in 3D, you have to use the integrated LG 3D video player. The interface is rather simple and you have just one option - view the video in anaglyph mode or side by side. You need a standard pair of anaglyph glasses to watch the 3D content. These were not supplied with our unit, so we guess their availability is region-dependent.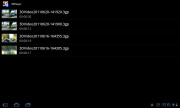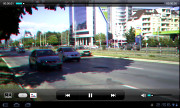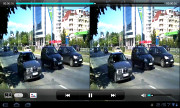 The 3D player • watching a 3D video
We uploaded the Optimus Pad 3D videos onto an Optimus 3D smartphone and they are fully compatible. We watched them in 3D without glasses trouble free.