New UI on old Android
At first glance, the LG Optimus Vu user interface looks very much like what we saw on the ICS-running Optimus 4X HD but we did find quite a few differences. And unlike the 4X, the Optimus Vu hides Android 2.3 Gingerbread beneath its colorful custom skin.
So, you'll be missing out on some of Ice Cream Sandwich's usability enhancements (things like the new task switcher, the notifications that can be dismissed individually, etc.), but LG has baked into this Gingerbread a good deal of its own improvements. An ICS update is in the pipeline for the Vu but it's too early to tell whether it will get Jelly Bean.
While it's not Android's latest and greatest, everything works just fine - check out this video to get a feel for the LG Optimus Vu in action.
LG is using a custom lockscreen instead of the stock Android variety, but it's not the one from the 4X HD. It offers a clock with two timezones, visible battery charge info and a shortcut for the dialer.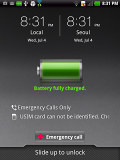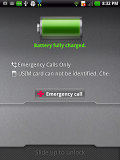 Using a phone lockscreen on a phoneblet
We feel they could have done more with all the room available - weather info, stock info, a news widget, anything to fill up all that real estate. Also, the ability to pull down the notification area to check new notifications is one of the perks of Ice Cream Sandwich that the Vu is missing out on (for now, anyway).
Getting past the lockscreen reveals the homescreen. You get five shortcuts at the bottom of the screen, which are always visible on all homescreen panes and even in the app drawer: Phone, Contacts, Notebook, Messages and Applications.
You can customize the first four of these shortcuts, the fifth one is always Applications/Home. You can put folders in here too.
Adding stuff to the homescreen works quite differently than in stock Android. A tabbed interface lets you pick between Widgets, Shortcuts, Folders and Wallpapers. You can pick an item in the selected category and drag it out from the drawer (the drawer gets out of the way once you start dragging.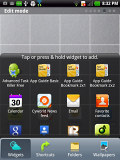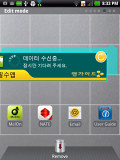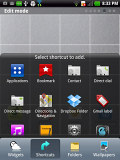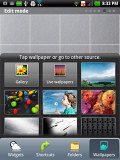 Placing widgets and changing the wallpaper
A pinch zoom gesture on the homescreen brings out the familiar overview mode. From here you can rearrange homescreen panes, select the default one and delete unneeded ones. You can add panes, but no more than 7.
One interesting feature on the Optimus Vu custom UI is that if you press and hold on a shortcut but leave it in place, a small paintbrush icon appears in its corner. If you tap that, you can choose another icon for that shortcut from a predefined list. There's no way to use external icon files, though.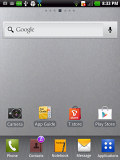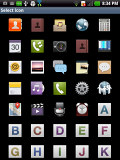 You can change a shortcut's icon
The notification area features a number of toggles - Sound, Wi-Fi, Bluetooth, GPS, Data, NFC and Screen Auto Rotation. You can tap them to toggle the related feature on or off, but you can also press and hold on them to get to the relevant page in the Settings. As usual, if you're playing something in the music player, quick controls will show up here.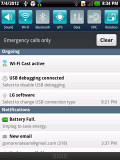 The notification area features plenty of toggles
The task switcher shows the 8 most recently used apps. There's an app manager button that brings out the task manager with info on each app (CPU and RAM usage). Apps can be terminated one by one or all at once.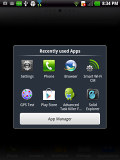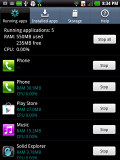 The task switcher has a button to launch the task manager
The app drawer has three view modes - page, category and list view. The paged view is scrolled horizontally and you can rearrange shortcuts. Category view should be familiar to LG users - it organizes applications into categories (e.g. Communication, Multimedia, etc.) A pinch zoom gesture lets you manage categories - rearrange them, add new one or delete ones you've added.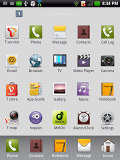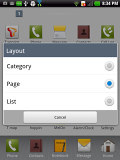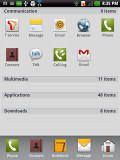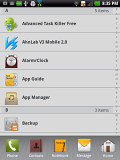 The app drawer has three view modes
There's an option to pick a different theme for the homescreen. There are a total of four preinstalled and they change the wallpaper and the look of the icons but not the functionality.
Another cool thing is the Home Selector - if you decide to install a third party launcher (or ten of them) this little app will help you pick which one shows up when you hit the home key.
Overall, LG has added a few interesting features, but there were still a few things we missed that other custom Gingerbreads UIs offer. Hopefully, when LG updates the Optimus Vu to Ice Cream Sandwich, it will enable the extra enhancements that the 4X HD got.
Synthetic benchmarks
The LG Optimus Vu is powered by a Qualcomm MSM8660 chipset, which houses two Scorpion cores clocked at 1.5GHz, 1GB of RAM and an Adreno 220 GPU, among other things.
The BenchmarkPi time of 669 is far from impressive as we've seen phones with lower clock speed do better.
Benchmark Pi
Lower is better
HTC One X (Snapdragon S4)
279
HTC One S
306
HTC One X (Tegra 3)
338
Samsung Galaxy S III
344
Samsung Galaxy Nexus
408
Samsung Galaxy S II (ICS)
452
Samsung Galaxy Tab 2 7.0
499
Sony Xperia S
536
HTC Sensation XE
583
LG Optimus Vu
669
Scoring 85.3 on Linpacks' multithreaded test is what we expected to see out of this chipset - good for a dual-core using the old architecture, but no longer top-shelf performance.
Linpack
Higher is better
HTC One S
210
HTC One X (Snapdragon S4)
196
Samsung Galaxy S III
177.1
HTC One X (Tegra 3)
126.1
Sony Xperia S
86.4
LG Optimus Vu
85.3
Samsung Galaxy S II (ICS)
77.6
Samsung Galaxy Nexus
77.1
HTC Sensation XE
50.4
NenaMark 2 showed a very playable 41.3 fps score, so current 3D games won't be an issue. XGA resolution has about 15% fewer pixels than 720p, so while the Adreno 220 lags behind the 225 and NVIDIA's new GPU in Tegra 3, it's not too far behind.
NenaMark 2
Higher is better
HTC One S
60.5
Samsung Galaxy S III
58.8
Samsung Galaxy S II (ICS)
51.6
HTC One X (Snapdragon S4)
49.1
HTC One X (Tegra 3)
47.5
LG Optimus Vu
41.3
Sony Xperia S
37.5
Samsung Galaxy Tab 2 7.0
24.7
Samsung Galaxy Nexus
24
HTC Sensation XE
23
SunSpider results match the performance of iPhone 4S with iOS5, but the Optimus Vu would have been ahead if it used Ice Cream Sandwich. The same goes for the BrowserMark score - while not bad as it is, it will improve once LG update the phoneblet.
SunSpider
Lower is better
Samsung Galaxy S III
1447
HTC One S
1708
New Apple iPad
1722
HTC One X (Tegra 3)
1757
HTC One X (Snapdragon S4)
1834
Samsung Galaxy S II (ICS)
1849
Samsung Galaxy Nexus
1863
Apple iPhone 4S (iOS 5.1)
2217
Samsung Galaxy Tab 2 7.0
2253
LG Optimus Vu
2257
Sony Xperia S
2587
HTC Sensation XE
4404
BrowserMark
Higher is better
Samsung Galaxy S III
169811
Samsung Galaxy S II (ICS)
111853
Samsung Galaxy Nexus
103591
New Apple iPad
103264
HTC One S
98435
HTC One X (Tegra 3)
96803
Samsung Galaxy Tab 2 7.0
94666
HTC One X (Snapdragon S4)
92232
Apple iPhone 4S
88725
LG Optimus Vu
82463
Sony Xperia S
74990
HTC Sensation XE
72498