Straightforward gallery
Viewing photos is one of Optimus Vu's strong suits - the large 4:3 screen fits photos with no black bars. That and the good viewing angles mean the Vu can successfully double as a photo frame. It relies on the standard Gingerbread gallery - it automatically locates images and videos no matter where they are stored in the phone's storage.
Once selected, you can view an image close up by pinch zooming or double tapping on the desired area. There are plenty of sharing options (from Gmail through messages to NFC) and also simple editing options (crop and rotate).
Media Home is an app that tries to turn the Optimus Vu into a highly functional digital photo frame - it offers big, easy to hit buttons for videos, photos and music. It's easy to start a slideshow or play some music and better still, the app can be set to launch automatically when you put the Vu in a dock or insert an MHL cable.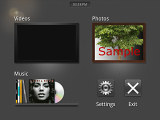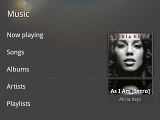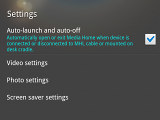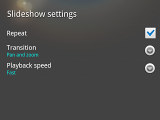 Media Home app takes care of photo frame duties
If you really want to show off, then you'll need the Video Producer. You choose on of the several predefined styles, add your photos and videos, throw in a soundtrack and you have a colorful, dynamic presentation on your hands.
You can fine tune it too - rearrange photos and clips, add captions and album art to each slide. When you're done, you can export your creation as a video (720p, D1 or QVGA).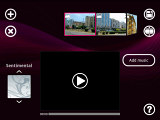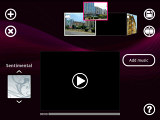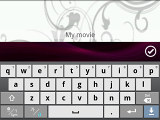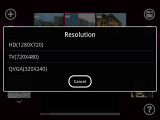 Video Producer is an easy way to create great looking photo and video slideshows
Music player does not have the look
The music player is not exactly pretty but it gets the job done. The usual filtering by album and artist is enabled and you have alphabet search and regular search for locating songs quicker. The music player is DLNA-enabled too.
The Now playing interface places a big album art image in the center with controls above and below it. Swiping the album art left or right is the easiest way to skip songs back and forth.
A press and hold on the album art will bring up a search menu, if you need to look up the title, artist or the album. After that you can pick where to search - your music collection, YouTube or a general Internet search.
There are equalizer presets which become available when you plug in a pair of headphones. Dolby Mobile becomes available only then, too.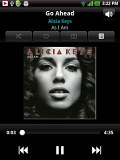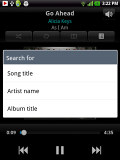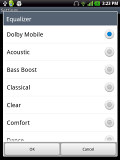 The Now Playing screen* The Search feature* Equalizers
When you're playing a song you get music controls on the lockscreen. They are hidden in a sort of notification area style panel that you need to drag down.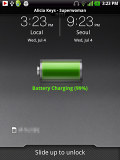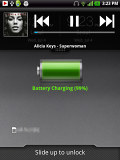 Music controls in the lockscreen
Decent audio quality
The LG Optimus Vu did way better than the disappointing LG Optimus 4X HD in our audio quality test. It's not that the phoneblet is perfect, but it should do just fine for most of the users.
When connected to active external amplifier the LG Optimus Vu achieved some pretty good scores for signal-to-noise, dynamic range and stereo crosstalk. The intermodulation distortion was rather mediocre and the extreme bass frequencies have been cut off, but the harmonic distortion was kept well under control. The volume levels were rather low, so we'd call this an average performance.
The good news is there's surprisingly little distortion when headphones come into play. The stereo crosstalk spikes by more than the average amount, but all the other readings remain virtually unaffected. It's certainly the better part of the Vu output.
Here go the scores so you can see for yourselves.
| | | | | | | |
| --- | --- | --- | --- | --- | --- | --- |
| Test | Frequency response | Noise level | Dynamic range | THD | IMD + Noise | Stereo crosstalk |
| LG Optimus Vu | +0.18, -1.69 | -87.0 | 87.0 | 0.011 | 0.166 | -83.7 |
| LG Optimus Vu (headphones attached) | +0.18, -1.58 | -86.8 | 86.8 | 0.010 | 0.138 | -47.9 |
| LG Optimus 4X HD | +0.02, -0.52 | -74.8 | 74.8 | 0.345 | 0.318 | -81.6 |
| LG Optimus 4X HD (headphones attached) | +0.03, -0.51 | -70.1 | 69.9 | 0.815 | 0.811 | -64.5 |
| Samsung Galaxy Note N7000 | +0.04, -0.08 | -90.4 | 88.9 | 0.0044 | 0.066 | -87.4 |
| Samsung Galaxy Note N7000 (headphones attached) | +0.12, -0.06 | -89.7 | 88.4 | 0.0084 | 0.112 | -51.6 |
| Samsung I9300 Galaxy S III | +0.03, -0.05 | -90.3 | 90.3 | 0.012 | 0.018 | -92.6 |
| Samsung I9300 Galaxy S III (headphones attached) | +0.11, -0.04 | -90.2 | 90.2 | 0.0092 | 0.090 | -53.1 |
| HTC One X | +0.02, -0.08 | -82.1 | 82.1 | 0.137 | 0.393 | -80.7 |
| HTC One X (headphones attached) | +0.10, -0.10 | -80.6 | 80.6 | 0.174 | 0.459 | -60.8 |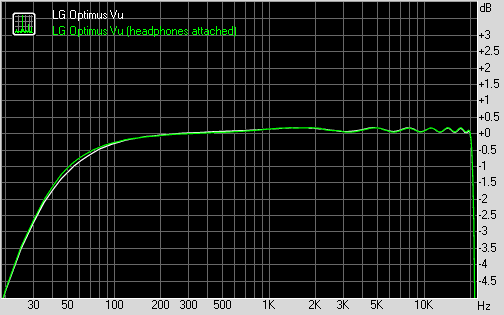 LG Optimus Vu frequency response
You can learn more about the whole testing process here.
Capable video player, wrong aspect ratio
The video player has a fairly simple interface, giving you just a list (with thumbs) of all the videos on the device. There's an alphabet scroll to help users locate videos faster but that's about it. You can of course play videos from the Gallery if you prefer its folder-centric organization.
To get the basics out of the way, the available controls during playback include a scrubber for jumping to various parts of the video along with the standard play/pause and skip buttons. There's a Dolby Mobile toggle as well.
The LG Optimus Vu handled everything we threw at it - DivX, XviD, MKV and MP4/MOV up to, and including, Full HD. The AC3 and DTS audio codecs are supported (those often cause problems on mobile devices), so you don't have to worry about sound compatibility issues either.
Subtitles are supported with settings for font, color, font and size. You can toggle subtitles on and off, but there's no option to manually point to a subtitle file, so the subtitle filename has to match the video filename.
The 4:3 1024x768 screen may not be perfect for 16:9 videos, but even with black borders, the screen is pretty big. On the upside, you can always stream the video over DLNA or better yet hook it up to an HDTV over MHL.