Connectivity
The LG Optimus Vu is quite adept at connectivity. The version we're reviewing has CDMA and EV-DO, HSDPA and LTE. Of course, other variants will probably drop the CDMA connectivity but LG is stingy on details for non-Korean versions of the Vu.
Anyway, there's plenty of other connectivity features - Wi-Fi b/g/n with DLNA and Wi-Fi Direct, Bluetooth 3.0+HS, NFC and MHL. Then there's the T-DMB tuner too, but that's only of interest to Korean users as this standard is not as popular in other countries. It's not to be confused with the more widely available in Europe DVB-T digital TV broadcasting standard.
SmartShare is an app that lets you control a DLNA network - you can play media from other devices (e.g. NAS) on your phone or play something from the phone onto another device (e.g. a DLNA-enabled TV).
The Wi-Fi Direct is a technology, which enables devices to connect to each other without the need for a Wi-Fi hotspot. The beauty of it is in that only one device has to be Wi-Fi Direct-ready for the magic to happen.
Using this technology two (or up to eight) devices can share files in a more advanced, fast and secure way, paving the road to the eventual demise of Bluetooth for short-range file transfers.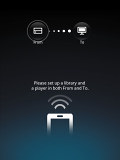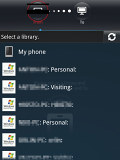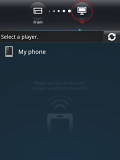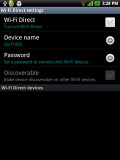 SmartShare* Wi-Fi Direct settings
NFC is also on board in the form of a dedicated app called LG Tag+. With it you can create tags that enable Wi-Fi, GPS, control sound and so on. Just pick your setting, hit write on tag and tap the Optimus Vu on an empty tag.
There's another NFC app called simply NFC. With it you can share info instead of creating tags, which automate actions. With it you can share a contact, URL, text, a message, trigger a cal or add an event to the other phone's calendar.
Any info you've shared that way is stored for quick access within the application so you can share it again later without having to do it from scratch. The app will also keep a log of tags you've read with the Optimus Vu.
By the way, there are two ways to share info - the first is to share, say a contact, directly with another device and the other is to write the info on an NFC tag that can be later read by other devices.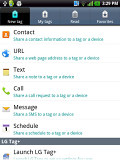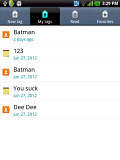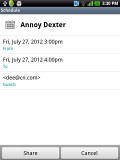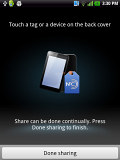 The NFC app is the go to place for sharing info over NFC or writing that info on tags
We're not done yet - the LG Optimus Vu features an MHL port too - that means you can hook it up to an HDTV to watch movies or photos on the large screen or use a different adapter to enable USB host mode.
Gingerbread browser still has it
The web browser on the Optimus Vu has received some tweaks by LG. The auto-hiding URL bar is on top and has the refresh and bookmark buttons. The bottom control bar houses the back and forward keys, the tab switcher key, and the new tab key. The whole bar auto-hides, leaving only an arrow in the bottom right corner that can be used to bring it back.
When you open a new tab, the screen is populated with the 12 most visited sites, similar to how Firefox or Google Chrome work. A 3D card interface can be used to switch between the open tabs, though you can drop the eye candy and use a simple list.
The browser has Read it later functionality - it's an easy way to mark pages that you want to look at later. That doesn't download an offline copy of the page though, you'll still need internet access. Also, we found no way to sign into Read it later, so we assume it's just a coincidence of names and not the popular service (that was recently renamed Pocket).
The Optimus Vu supports double tap and pinch zoom. There's text reflow too - it adjusts the columns of text to fit the screen width. If you've pinched to zoom in, you need to double tap the screen to make the browser reflow the text.
The dual-core hardware enables the Optimus Vu browser to play 720p Flash videos but 1080p proved too much for it. You can play touch-optimized Flash games too.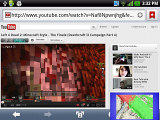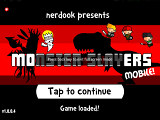 Playing YouTube videos and Flash games
Chock-full of organizer features
The Optimus Vu comes with a respectable set of organizing features. We start off with the Office document editor.
The app in question is Polaris Office and it's one of the most advanced mobile editors we've seen. You can of course view documents - Word, Excel and PowerPoint documents and PDF files too. The app lets you add files as favorites or use a two pane file explorer (think Windows Explorer) with support for bulk actions.
Edit mode offers almost a full set of options - text style, justification, paragraph formatting, bullets, even creating tables. If you're editing an Excel file, you get a formula wizard, resize rows/columns, border style, cell merging and so on. Even creating a full PowerPoint presentation is possible.
The Calendar has a tabbed interface so you can easily switch between Month, Week, Day and Agenda views. The app can sync with multiple online calendars and gives you an option to hide the ones you don't want (but keep or turn off syncing for them).
Date finder is a useful tool that tells you what date it will be after several days (or what date it was that many days in the past). It makes checking the date a hundred days from now a breeze.
The LG Optimus Vu features an alarm clock application, which allows a lot of alarms to be set, each with its own start and repeat time. The Timer, World Clock and Stopwatch features are also part of this app.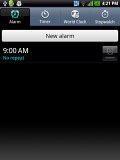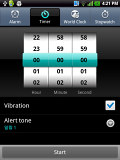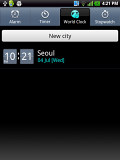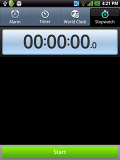 The Alarm* World clock* Stopwatch
The organizer package also includes a useful voice recorder and a nicely touch-optimized calculator. The Memo app allows you to take notes and add media to them, such as images, audio, or location.