Organizer (continued)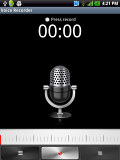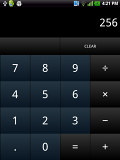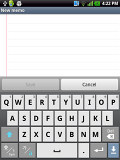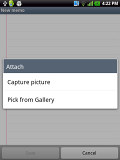 The Voice recorder and Calculator • The Memo app
There are also news and weather apps. Both come from Yahoo.
The so-called QuickMemo function is integrated in the phone's OS, allowing you to capture screen shots of anything (including the lockscreen!) using the dedicated key and scribble notes over them like you would on the LG Optimus 4X HD or the Galaxy Note.
The Vu comes with a comfortable stylus. As you draw, you can pick between different pen styles and colors and an eraser. You can choose to discard the screenshot if you just want to scribble something on an empty background.
When you're done, you can easily share the image or save it to the gallery.
Finally, there is an option to lock the capacitive keys on the front to prevent accidentally getting out of the app before you're done editing.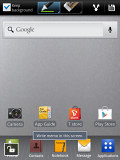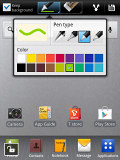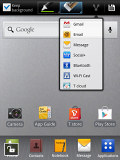 The QuickMemo function in action
There's another app that uses the stylus - it's called Notebook. It creates "notebooks" with different covers, different page styles (lined, graph, blank) and paper color. Each notebook can have different pages and you can insert regular text, images, videos, locations, dates and memos to complement your sketches.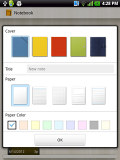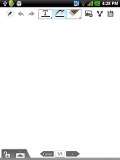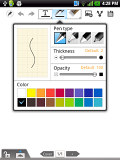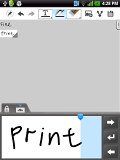 The Notebook app can do tons more than a plain paper notepad
You have access to several "pen types" (including a spray paint can) and you can change color, thickness and opacity. If you want to draw some really fine detail, you can pull out a magnifying glass from the bottom that gives you a zoomed in view. You can change the zoom and move the magnifying glass around.
The Backup that comes preinstalled on the LG Optimus Vu can backup both pre-installed and downloaded apps, bookmarks, calendar, contacts and call log, messages, how you've arranged your homescreen and your system settings. You can do both manual and scheduled backups.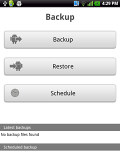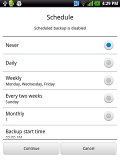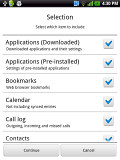 The Backup app can backup anything and do it on a schedule too
LG Readers is the preinstalled eBook reader on the Vu. The 4:3 aspect ratio is good for reading. The Readers app has a built-in store where you can buy new books.
Google Play has the apps
The Google Play app market, previously known as the Android Market, lets you download various apps for your device. Upon launch of the Market app you're greeted with the tiled interface of the Featured window. A swipe to the right takes you to the Categories view.
Swiping to the left takes you through Top Paid, Top Free, Top Grossing, Top New Paid, Top New Free and Trending (the ones with growing popularity).
Downloads are easy and won't take more than a couple of seconds. Before you agree to download an app, the Market will show you what features the app requires access to (e.g. Internet connectivity, access to the file system, etc.). You can also see whether updates are available for your currently installed apps by going to My Apps in the contextual menu.
Google Maps
The LG Optimus Vu managed to get a GPS lock in under a minute without A-GPS. A-GPS can speed up the lock (but it involves some cellular data traffic). Cell-ID and Wi-Fi positioning are also available if all you need is a rough location, but they need a data connection too.
Google Maps is a standard part of the Android package and we've covered it many times before. It offers voice-guided navigation in certain countries and falls back to a list of instructions elsewhere. You can plan routes, search for nearby POI and go into the always cool Street View.
The latest version uses vector maps, which are very data efficient and easy to cache. The app will reroute you if you get off course, even without a data connection.
3D buildings are shown for some of the bigger cities and you can use two-finger camera tilt and rotate to get a better view of the area.