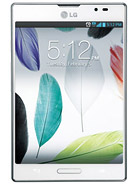 J
I have the original optimus vu. It's like a portable tablet. It fits in my front pocket and it's light weight. It looks big at first, but once you get used to it, it doesn't seem big at all.
3838
237
Why it has only 2150 of mAh? It should have around 3000 mAh. Anyway the design of this phone is strange, the Note 2 looks better. This is too wide, and it looks like a cube.
Total of 83 user reviews and opinions for LG Optimus Vu II.