LG has posted its financial report for Q3 2012 and the news are mostly positive. The company has been described its performance as "solid" and while it didn't report huge profit at least it's in the black.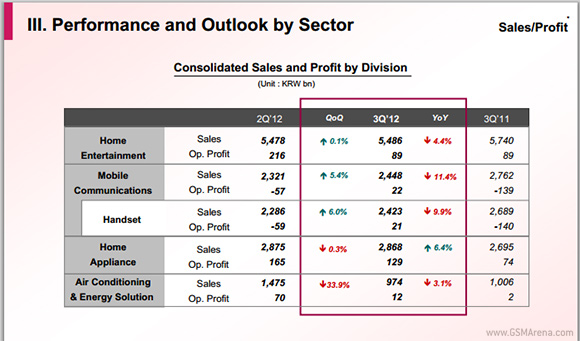 The overall net profit is reported at 157 billion Korean won ($138.57 million), which is $1.8 million lower than in Q2, but is still great news for LG.
The LG mobile division managed to ship 14 million smartphones, which is a 9 percent increase over the previous quarter. The revenue from the mobile communications department is also up by 5 percent on a quarter basis adding up to 2.5 trillion Korean won ($2.26 billion).
One of the main reasons for the growth are the company's newly introduced LTE droids, which sell particularly well in Korea, Japan and the US. The L-series of phones have also contributed to the positive results.
For the Q4 2012, the company says that it has set the groundwork to improve sales thanks to the launch of the Optimus G and Optimus Vu 2 in Korea. It also acknowledges that R&D and marketing expenses have increased, but it's still turning up profits thanks to "improved product mix" and "cost structure".
?
Nice LG is Comeback . this is a good news LG was once the 3rd spot in world mobile market share in2008. hopefully LG will be on the 3placer by th end of this year.
?
I,m waiting for the lg l9 . That phone is sick and is worth waiting for . I just with the camera coule be 8mp or hight but 5mp is also go to..
ADVERTISEMENTS