It was undoubtedly a bit shocking for many people to find out that Samsung actually has no plans of launching the Galaxy Note5 in Europe, at least not until 2016. And that's especially after all four predecessors of the phablet have been sold in Europe.
LG is now the first competitor to openly mock Samsung's marketing policy in this regard. Samsung decided that people in Europe don't have as much use for the S Pen stylus of the Note series as those in Asia and the US, but LG is having none of that.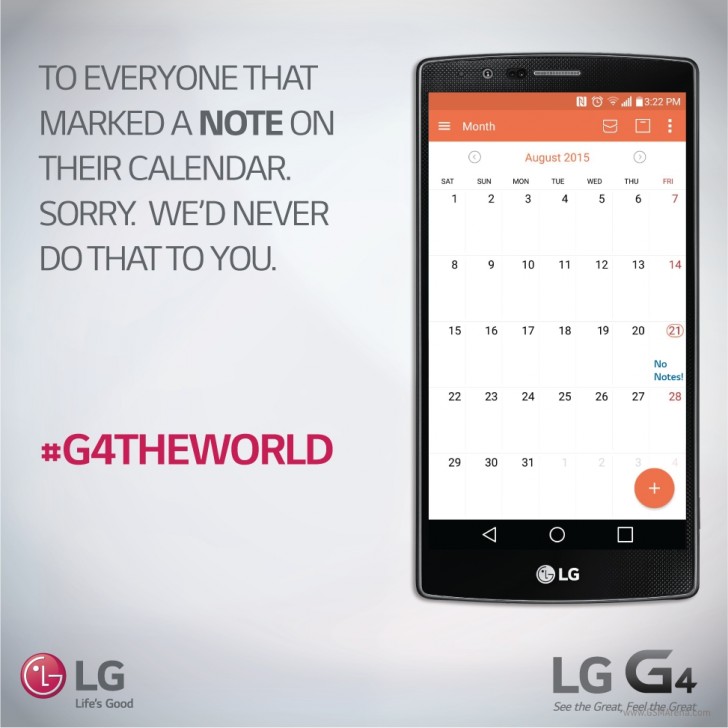 LG's arm in Jordan tweeted the image you can see above, obviously implying that if you're disappointed with Samsung and its antics you should consider buying the G4 instead. LG stresses that its current flagship smartphone is available across the world, without any artificial limits imposed on its distribution. "We'd never do that to you" is the message here, and we hope other manufacturers don't go Samsung's way in the future and start to geo-restrict their high-end devices more.
Thanks for the tip, Ricky!
?
Samsung wants to wait for their Note5 Active to complete to be released in Europe.
?
except the actual look of design and aspects is apple following samsung
?
Nothing creates demand like telling you you can't have it. We all want what we can't have.