LG published a report on its financial performance in 2019, boasting a record-breaking sales of $53 billion. The company recorded operating profits of $2.07 billion, 10% down from 2018, which LG explains with the additional investments it made in marketing and developing future tech.
Most of the money came from the LG Home Appliance & Air Solution Company. It brought it a third of the revenue ($18.29 billion) and most of the operating profit ($1.7 billion). This division set company-wide records for both the revenue and profit it delivered this year.
The financials for the fourth quarter – $3.92 billion in revenue (up 7% YoY) and operating income of $103.86 million (up 8.5%) – are a company record for Q4. The increased performance was thanks to healthy demand in North America and Europe.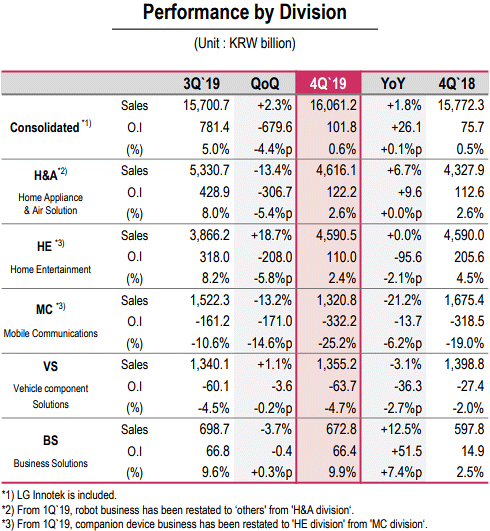 2019 Q4 performance per division
The LG Mobile Communications Company is still struggling. The yearly revenue of $5.07 billion lead to a $858.34 million loss, due to higher marketing costs needed to support LG's flagship devices.
Looking forward, LG is pinning its hopes for 2020 on cost-cutting measures and selling 5G smartphones in the mid-range and premium segments.
The LG Home Entertainment Company brought in $13.73 billion in revenue with an operating income of $833 million. These numbers are relatively unchanged from last year.
The LG Vehicle Component Solutions Company deserves a pat on the back. The $4.65 billion in revenue is up 27% from 2018, the highest annual sales in this division's history. It did post a loss of $165.6 million for the year, but LG expects the market to pick up in 2020 as European environmental regulations tighten and demand for electric and hybrid cars increases.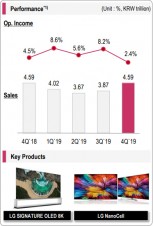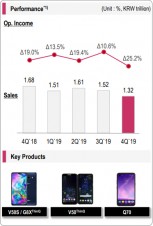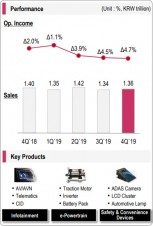 Q4 financials and key products: Home Appliance • Home Entertainment • Mobile • Vehicle Components
You can read the full report by following the Source link.
P
It's uphill after V30 onwards... Hope V60 and G9 up the game further for LG. They sure needed.... Btw, LG HiFi Quad DAC on audio is second to NONE!
R
The problem is they use cheap chip sets no one wants to buy old stuff i use lgv30+ its a gr8 phone doesn't seem to be a problem
?
True. They should stop making mediocre flagships with high price tag for sure. I have an LG monitor for years. Quite happy with it, can't complain.
ADVERTISEMENT