LG has extended its promo offer to go with the G4 flagship, though it's sadly still limited to the US. Previously supposed to end on June 21, the deal is now valid through June 30 and gives G4 buyers a 32GB SanDisk microSD card and a spare battery with a dedicated charger, a $105 extra value.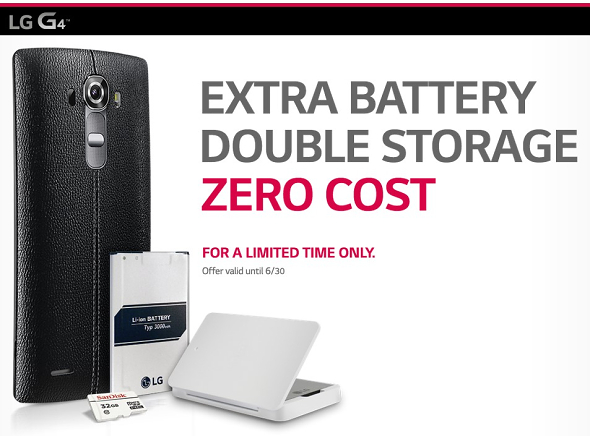 The promotion is active both with carriers and major retailers, and covers online and physical stores. Obviously terms and conditions apply, but there's only about three pages of those, so they won't be all that much of a bore to read.
Unsurprisingly, LG realizes the key selling points of it flagship over main competitors, and is keen to point them out on every possible occasion. Archrivals on the US market Apple iPhone 6 and Samsung Galaxy S6 both lack an external storage option and the companies charge a significant premium for anything other than base storage, which on the G4 comes as easy as popping in a memory card.
Meanwhile the user-replaceable battery is a feature headed for extinction. Although users are divided on the matter, it can't hurt the G4's sales if prospective buyers are kept aware of the phone's advantages over the competition.
?
Never did receive the extra battery and cover as promised on the promotional material. Very poor customer service. Never responded to emails or telephone calls.
?
No. Thank millions of trolls and bias reviews with silly classics of "cheap" materials. And the SD slot has to do with bandwidth. Not the iPhone, design, or claims