Battery
The LG Q6 has a 3,000mAh non-removable battery. The battery life on the phone is generally good thanks to the underpowered processor and relatively small display. On a full charge you can expect about 6-7 hours of screen-on time and about a full day of use.
Unfortunately, the phone lacks fast charging and takes about two and a half hours to charge completely with a 10W charger. The phone ships with a 6W charger, which takes even longer.
Verdict
At first glance, there is a lot to like about the Q6. The design, largely carried over from the G6, looks great and feels absolutely perfect in hand. The display is also very good and looks like it goes almost edge to edge on every side. Simply having this aspect ratio with those curved corners in this price range itself is very unique. And the software too, for most parts, works quite well.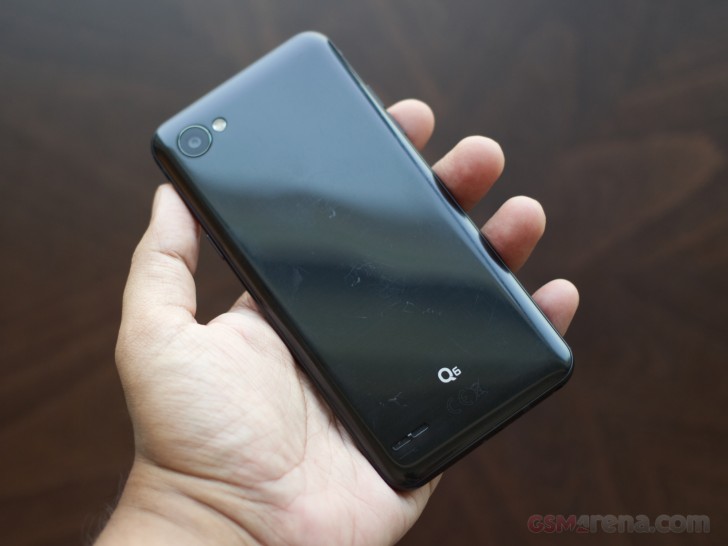 Yet there is no avoiding the downsides of the cost cutting, which you spot throughout the phone and which goes against the very premium and upmarket first impression you get from the device. The cheap plastic back scratches very easily, the phone lacks basic necessities like a fingerprint sensor and fast charging.
The camera is quite decent in daylight and we can live without dual cameras or 4K video recording in this price range. The software feels like it was robbed of a few features, either because the hardware was just not good enough or for the sake of differentiation.
But what really damages the whole experience for us was the poor performance from the utterly lackluster processor. We could have excused the lack of features to some extent if it didn't perform so poorly but the combination of two makes it hard for the Q6 to stand-up to its competition.
Coming in at about the same price as the Xiaomi Redmi Note 4 or the Moto G5 Plus, the Q6 really can't compete with either of these devices in terms of performance, features and overall value for money. To us, the appeal of an overall package is far greater than just having a pretty exterior and that's exactly where the Q6 fails to deliver.
In the end, the Q6 is beauty that is skin deep, which is a shame because we really wanted it to be good. If LG were to make a version with more power under the hood, we would love to give it another shot.