LG had plenty to show, though there was little suspense about what the whole thing was going to be about. All of the six devices were already well familiar: the LG Optimus G Pro, the fresh LTE-enabled midrangers Optimus F5 and F7, and the second generation of the L series. The upgraded Vu II phablet was also on stage.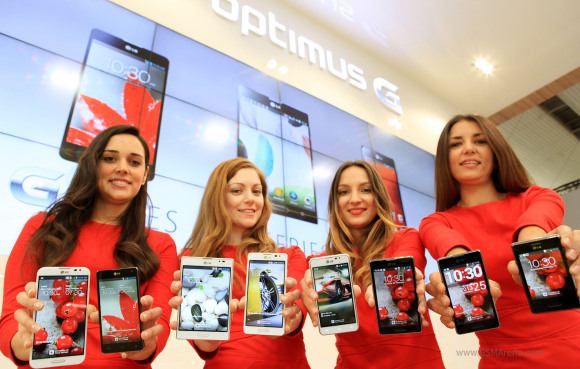 LG Optimus G Pro
In case you missed the news about the latest flagship's upgrade, the Optimus G Pro comes with a 5.5-inch IPS 1080p display and is powered by a Qualcomm Snapdragon 600 chipset, with a 1.6GHz quad-core Krait 300 and Adreno 320 GPU. The rest of the specs include 2GB of RAM, a 13MP rear and a 2.1MP front camera with dual-recording enabled, and a 3140 mAh battery unit. The phone runs Android 4.1 Jelly Bean skinned with LG's latest Optimus UI.
LG Optimus F7 and Optimus F5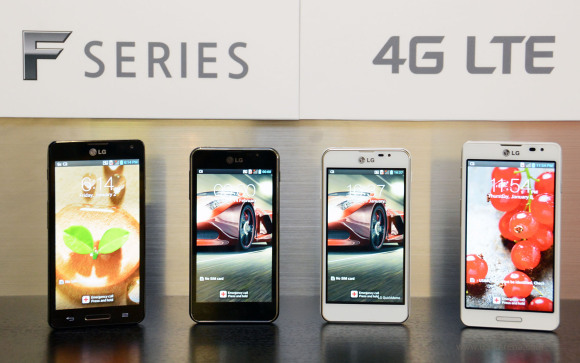 The newly introduced F series offer LTE-enabled smartphones at affordable prices. The first two members of the lineup are the Optimus F7 and F5.
The LG Optimus F7 comes with a 4.7" True HD IPS 720p screen (312ppi) and a 1.5GHz dual-core processor with 2 gigs of RAM. The phone has an 8MP camera and 8GB of built-in storage (plus a microSD card slot). The F7 measures 131.7 x 68.2 x 9.6mm.
The LG Optimus F5 has a 4.3" IPS LCD screen of qHD resolution (256ppi), a 1.2GHz dual-core processor with 1GB of RAM and a 5MP camera. It has 8GB of built-in storage and a microSD card slot too. The F5 is more compact at 126.0 x 64.5 x 9.3mm.
LG Optimus L7 II, L7 II dual, L5 II and L3 II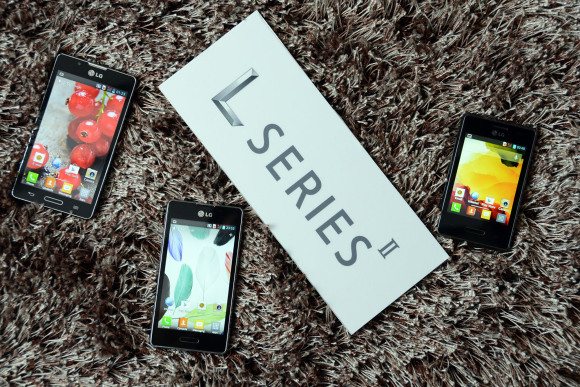 LG has also upgraded its affordable and stylish Optimus L lineup with three new phones - the Optimus L7 II, L5 II and L3 II.
The Optimus L7 II packs a 4.3-inch IPS WVGA display and is powered by the Qualcomm MSM8225 Snapdragon S4 Play chipset with a 1GHz dual-core processor, Adreno 203 graphics and 768MB of RAM. An 8MP camera with LED flash, 4GB of onboard storage expandable via a microSD slot, a front-facing VGA cam, Android 4.1 Jelly Bean, and a 2,460 mAh battery complete the handset's spec sheet.
The Optimus L7 II will come in a dual-SIM flavor, called the L7 II dual.
The Optimus L5 II has a 4.0-inch IPS WVGA display, a 1GHz MediaTek MT6575 single-core processor and PowerVR SGX531 graphics. Other known specs are the 5MP camera at the back and Android 4.1 Jelly Bean ticking inside.
The Optimus L5 II will also have a dual-SIM version, called the L5 II dual.
Finally, the Optimus L3 II features a 3.2-inch IPS QVGA screen, a 1GHz single-core MediaTek processor, a 3MP camera and a microSD card slot. Naturally, Wi-Fi, GPS and Bluetooth support are available too. The Optimus L3 II also runs on Android 4.1 Jelly Bean.
Just like the Optimus L7 II dual and L5 II dual, the Optimus L3 II will have a dual-SIM twin, called the Optimus L3 II dual.
According to LG, the "design philosophy of the L Series II has been enhanced to include four new design elements: Seamless Layout, Laser Cut Contour, Radiant Rear Design and Smart LED Lighting on the home button".
The new L II phones will become available in Q2 this year.
LG Optimus Vu and Vu II
The other exhibits at the LG booth were the Optimus Vu and the Optimus Vu II phablet. Both were revealed way back in 2012 but perhaps LG is planning to make them more widely available (so far both have been limited to Korea only).
So, obviously it wasn't LG's plan to surprise anyone - all phones presented today were introduced via press releases earlier this month. At least, we finally got to know them better.
a
yes this is good product
L
i really impressed with these lg phones... im surely looking to have f7. godness i never dream one day to be in-love with lg phone? i think i have to upgrade my htc one v to thisf7.
ADVERTISEMENTS