AT&T took the modern approach to bragging by posting on Twitter that the LG Thrill 4G will be available on September 4th. That's their version of the LG Optimus 3D and it packs the same 4.3" glasses-free 3D display and dual 5MP camera.
The LG Thrill 4G (just to make things clear, "4G" means HSPA+ here) has been teased by AT&T for ages (well, since March) and it was even up for pre-order on RadioShack at one point.
The prices we heard then from Radio Shack were $79.99 on a two-year contract (after buying a $50 gift card to be able to pre-order) or $550 off contract. Now we're hearing $100 on contract. AT&T is still keeping us guessing, we'll know the actual price this Sunday when the Thrill 4G finally launches.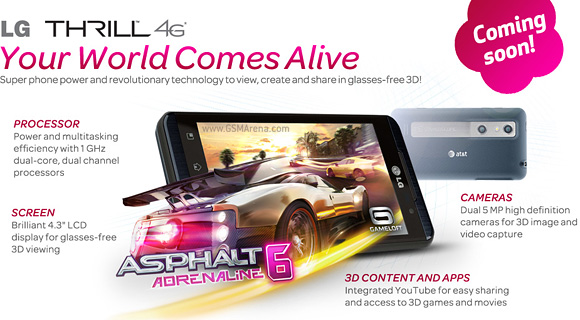 This gives you a few days to decide if you want one or not - check out our review of the unbranded Optimus 3D and keep in mind that the phone will soon be able to convert almost any 3D game into a stereoscopic 3D game. And National Geographic photographers have been using it to shoot photos and videos (we should see those at IFA around the time the LG Thrill 4G launches).
S
Both are not worth to buy . Stereoscopic 3D will make you dizzy
S
Thank U guys, maybe I'll give it a try in the future.
B
Please Can I Ask You Which One Is Better To Buy HTC EVO 3D Or The LG Optimus 3D , iDont Talk About Price Iam Asking About Preformance And 3D .
ADVERTISEMENTS