LG is gearing up to announce two new models of Bluetooth speakers at IFA, and one of them sure looks odd. It's another word for stylish in this case, don't get us wrong, it's just that the bottle inspired design is so striking that LG felt the need to warm us up to the idea before we see it in the flesh in Berlin a couple of weeks from now.
Dubbed SoundPop 360, the cylindrical speaker outputs sound in all directions and promises a 20-hour battery life. LG says it drew inspiration from coffee tumblers, which you're already used to carrying around, so the speaker should be able to effortlessly fit into your daily routine. We can imagine a Monday morning where cranky you will pour your coffee in the SoundPop 360, so we'll see how the design plays out in the long run.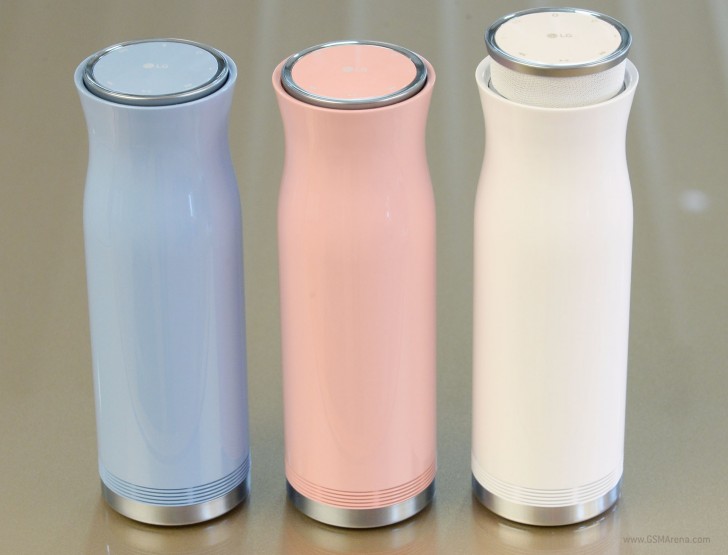 The more conventional LG Music Flow P5 is not facing such peril. Looking like a miniature retro desktop radio, the P5 joins the already available larger P7. The P5 is claimed to last 15 hours on a single charge, and that's about everything we get in terms of specs at this point in time.
Both speakers will come a multitude of proprietary features like Auto Music Play, Multi Point, Dual Play. The first one will fire up the speaker, once an audio source comes within range, while the other two let you connect multiple devices to a single speaker, or multiple speakers to a single source of music.

The SoundPop 360 and Music Flow P5 will be shown at LG's IFA stand, where we'll hopefully be able to get some more detailed specs. Another attendee there will be the Music Flow HS8 curved TV speaker we told you about a few days back, though none of us peasants seems to have a curved TV to go with it.
?
They look like, you know, insertion tools.
?
lg as always the best for design and i want these lovely speakers.
?
Cute bottle and butter speaker.
ADVERTISEMENTS