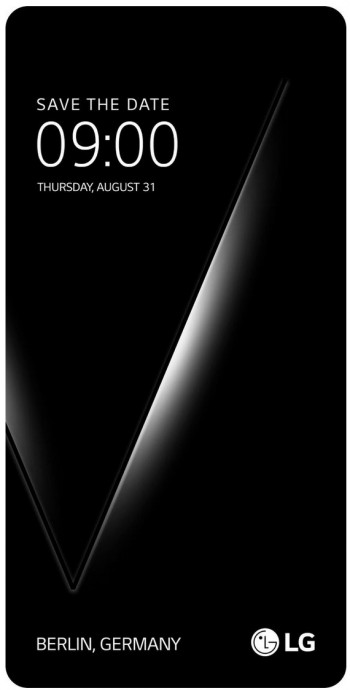 LG has sent save-the-dates to the media for an announcement event to take place in Berlin on August 31. Just one day before IFA kicks off. The LG V30 will be the star of this announcement given that the invite is a tall 18:9 display with a V-shape design in the background.
The date in this invite lines up with previous speculations regarding the devices' expected release date.
Only recently, an LG V30 render was leaked, based on CAD designs. In addition, the V30 is believed to sport an OLED display and the secondary display would no longer make an appearance on the V series after debuting on the V10 and appearing on the V20. Wireless charging is also believed to make it to the LG V30.
Under the hood, we are expecting a Snapdragon 835 and at least 4GB of RAM. The V series always seemed to have something interesting over the G series, but with the supposed removal of the secondary screen, what could be the next unique thing about the V30?
A
Non-removable battery BOOO!!!
r
Huawei Mate 10 could have the fastest fingerprint and fastest phone of the year. But over all best phone could go to LG V30 or Galaxy Note 8 or iPhone 8. The competition of 2nd flagship phones of the year will be so tight esp. As they are all going t...
r
indeed this phone seems very promising. it seems to have the title of the phablet of the year 2017