LG to show 5.5-inch 1080p screen, 324ppi 7-inch tablet screen at CES

LG is bringing a bag full of high-resolution displays to CES for the geeks who were good this year. Practically every size is covered - from 4.7" phone screens to 84" TVs - and they bet on thin bezels and high resolutions.
The pocketable screens start with the 4.7" unit, which aims to impress with a bezel that's only about 1mm thick, so phones that use it should be more compact than current 4.7" phones.
Then there's the 5.5" FullHD phablet screen, which packs 403ppi pixel density. That's close to the 5" FullHD screens that are going into next year's flagships and well above current-gen phablets.
Moving up in size, LG will also show off a 7" screen with 1920x1200 resolution and 324ppi pixel density (virtually the same as the iPhone's screen and higher than both the iPad and Nexus 7 pixel densities).
Also on display, if you'll pardon the pun, will be a 12.9" QSXGA display (2560x1700) for ultrabooks (for comparison, the 13.3" MacBook Pro has a 2560x1600 screen). This display will use AH-IPS tech as will the phablet and tablet displays.
There will be a 13.3" laptop screen too, this one with an impressively narrow 2mm bezel.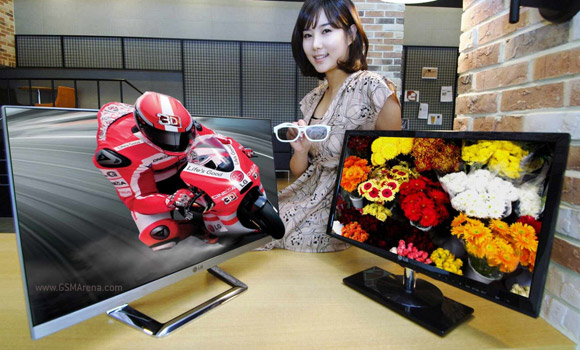 That's it for the mobile solutions, but the desk monitor and TV solutions continue with the high-resolution, thin bezel trend.
On the TV front, LG is bringing UHD TVs (3840x2160, 4x FullHD) in 55", 65" and 84" sizes, which will use the company's FPR 3D tech. A 4K2K 30-inch PC monitor packs even more pixels - 4096x2160. A 23.8" monitor from the Neo-Blade series will also be at CES, with an "ultra-narrow bezel," though the press release gives no concrete numbers.
Returning from this year's CES will be the 55" WRGB OLD TV, which packs impressive specs despite being a year older - 4mm bezel and 3.5kg of weight (around the same as a 17" laptop).
?
in this pic girls was looks so nice..........
D
samsung google nexus 10 screen is better
D
This news is all about screen size and minimal bezel. I think LG is doing the right thing when it comes to future devices. Oh and I will buy the 7" tablet if it has 324ppi. I don't mind if it has a 8" screen with minimal bezel knowing that ...
ADVERTISEMENTS