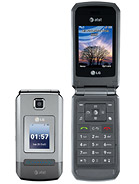 b
where can i get battery for this phone
h
i am using it in |Nepal///////// so i want to use full function of it !!!!!!!!!!!!!1 but i am not being able to do so/i need a help to use all features of this phone.help me please.
w
the pgone is ok everybody cherished it as i buy but what i discover from de phone be say you cannot configured ur own internet setting except de internal setting and none of the java application is going so i don't either is another way to do about it in other to broswe with de phone
j
i got one of these a few days ago and the first thing i noticed is that it is kinda slow when loading graphics and music. it also has to update the library frequently. great phone tho, i love it... for an lg not bad. never really like them but hey for the price i'm not complaining.
?
I have had problems with my previous LG Trax CU575 locking up when not in use, but on.
My second phone (replacement) is doing the very same thing, only worse.
My third replacement is on its way now.
?
The phone is a great phone with a lot of awesome features. There are a lot of fun little tools like the tip calculator and unit converter. The music player is pretty good for small speakers. However, if you want to set one of your personal songs as a ringtone, you have to edit the song to no more than 30 seconds, otherwise the phone says the file size it too large. Also, the phone seems to lose reception more than other phones I have used in the past. In general, the LG Trax is an overall great phone, I would recommend you check it out.
D
The Trax is a nice phone with good features. The design is nice and music player is good. Only drawback is the lack of data cable and PC sync software.
U
I thot tha fone is pretty sweet.
Kinda lags when texting if u press tha
Keypad too soft.
Anything else it's great.
Have no problems wit it
?
The phone design and operation was great. But for those with sensitive good hearing, there is a constant buzz that can be heard through calls and even before a call starts. NOTE: Others in my family did not hear it until I pointed it out. But once I pointed it out they also were able to hear the buzz. Tried 3 different phones from this model and all had the buzz.
Total of 10 user reviews and opinions for LG Trax CU575.