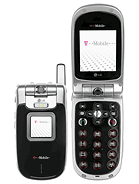 J
It doesnt have tflash (microsd) unless this site and LG's site are wrong.

Don't say anything if you don't know. Now someone has probably bough one of those wrong cards.

And if I have now made a mistake, i gotta say LG's official site is shit.
t
very good feature. let me know the transflash card memory pric3, please. i lon know the 256MB's price!
l
wow!!gr8 lukin and luvly keypad design!! part frm mi bluetuf dont wrk!! eveyfin esle wrks fine it woz probably me wen i left it wid mi 9 year old sis to ply wid!!
M
This phone is very nice, but with new keypad design. This one which is on these pictures isn't nice - let's try to find new one. You will be surprised - it's great.
K
This phone will be available on 3 mobile australia in early to mid july,looks a good change from the 8180!
d
This phone will on available on T-Mobile soon.(next month maybe..)It have T-flash external memory
g
Looks like a great phone. I would just like to make sure this has the Bluetooth data transfer capability, like transferring address book and pictures to a pc with Bluetooth.
A
i really like this phone its got pretty much everything i want from a phone. any1 know when its coming out and how much it will cost ($AUD)
c
I think this is the best lg phone till now. Finally, they put: bluetooth, sd slot, megapixel camera in a small good looking phone.I want to buy this phone, but i don't know how.Maybe somebody will tell me.Who can, send me an email to claudiuc_21@yahoo.com
Total of 33 user reviews and opinions for LG U8200.