When LG announced its Q4 2012 results, the company announced that it will be focusing on LTE-enabled phones, which included the launch of the new F series. After a bit of teasing, the F series is now official with the LG Optimus F5 and Optimus F7.
"With adoption of LTE expected to explode in 2013, we are sending a clear message to con-sumers with the Optimus F Series that LTE isn't just for heavy content users and techies anymore. It's for everyone," said LG CEO Jong-seok Park.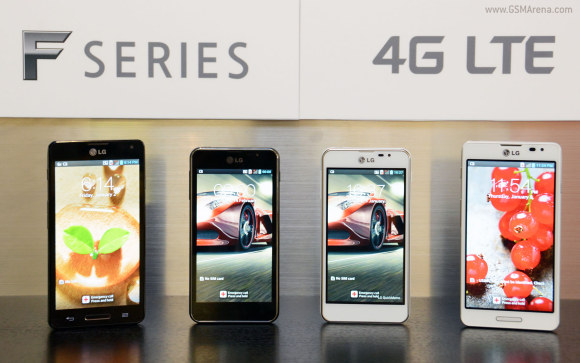 LG Optimus F7 and Optimus F5 in black and white
The LG Optimus F7 is the higher end model of the two with a 4.7" True HD IPS 720p screen (312ppi) and a 1.5GHz dual-core processor with 2 gigs of RAM. The phone has an 8MP camera and 8GB of built-in storage (plus a microSD card slot). The F7 measures 131.7 x 68.2 x 9.6mm.
Then there's the LG Optimus F5 with a 4.3" IPS LCD screen of qHD resolution (256ppi), a 1.2GHz dual-core processor with 1GB RAM and a 5MP camera. It has 8GB of built-in storage and microSD card slot too. The F5 is more compact at 126.0 x 64.5 x 9.3mm.


A closer look at the LG Optimus F5
Both phones will launch with Android 4.1.2 Jelly Bean and will get some of the advanced features that were reserved for the flagship Optimus G until now. QSlide multitasking with ability to run two apps on the screen (and you can resize, move and change the opacity of those apps) and Live Zooming, which lets the user pinch zoom while watching a video.
LG wants both phones to have good battery life, so the Optimus F7 comes with a 2,540mAh battery, while the smaller F5 isn't far behind with 2,150mAh (best-in-class, according to LG, but not as big as the 2,460mAh battery in the L7 II, which doesn't have LTE).
The LG Optimus F5 will launch in Europe in Q2, followed by the Optimus F7 in select markets. Both phones will see a global launch though exact details for that will be released later.
And, of course, both phones will be at the MWC which starts next week – we'll be there for some hands-on impressions of these two and the others gadgets that LG has in store.
D
Maybe is Snapdragon 600.
D
specification not the same, i think it will be snapdragon S3 (45nm)(scorpion) like Sony Acro S, it cheaper, that S4 krait. So 4X has quad processor and 16gb ROM, F7 will be 2gb ram and LTE that all differences. So it muss be cheaper, than 4X or the ...
D
Their body design just remind me of Motorola Droid RAZR series.
ADVERTISEMENTS