LG V20 finally gets a full list of rumored specs, one day before it's official
LG is making the V20 official at an event in San Francisco tomorrow, so by now you'd expect us to have found out everything there is to know about it through dozens of leaks and rumors. Well, yes and no.
We've had plenty of supposed sightings of the V20 (the latest in what seems to be a leaked promo video), so its looks aren't that much of a mystery anymore. The situation is different when it comes to specs. Sure, it's clear that it will have high-end innards, and LG itself has teased its audio capabilities, but what about everything else?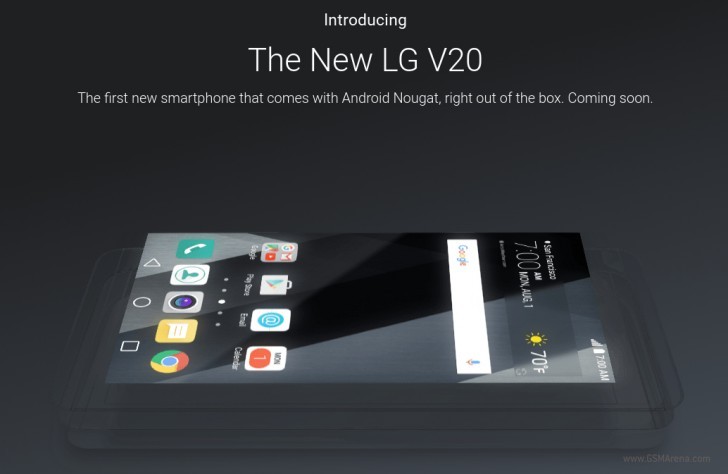 Thankfully, a rumor out of China now comes to answer that question, a mere day before the phone's announcement. According to one Weibo leaker, the V20 should sport a 5.7-inch QHD main screen, a 16 MP dual camera arrangement on the back, Qualcomm's Snapdragon 820 at the helm, 4GB of RAM, as well as a big 4,000 mAh battery.
As Google has told us, the V20 will run Android 7.0 Nougat from day one, being the first smartphone to do so. We also expect it to have a small secondary display above the main one, akin to the component that was part of the V10, this device's predecessor from last year.
Now of course you shouldn't have taken this without a trace of salt, because it is just an unconfirmed rumor after all. The good news is that we'll find out the V20's definitive spec list in just over 24 hours.
D
it's just human nature, tell someone (hipothetically) a snapdragon 710 is better than 820 and give meaningfull arguments (true or not) and when they test it they'll already have that "bias" and are more likely to agree with u, now i don't mean 821 is...
b
Probably will have the same manufacturing issues as the G4, G5 and V10: After six months, it will get image burn-in, then it will not be able to boot anymore, and LG will refuse to replace it.
M
I don't understand what is the big deal about SD 821, compared to SD 820. The difference is minimal and there won't be any noticeable difference in real life performance. People should chill about this and enjoy the phone for what it has, instead of ...