Design
LG dropped the previous rugged design in favor of a G5-inspired shell and you can tell the V20 is a beauty right away. The tiny chin at the bottom may confuse someone that the modular experiment is doing another spin, but it's not the case.
The V20's shell isn't an unibody, but it sure looks like one. Everything that is not screen glass is made of AL-6013 aluminum alloy, which is reportedly used in boats and planes. The material is tough, as is the frame around the V20's chassis, so the phone has similar military shock resistance compliance as its V10 predecessor.
There are, of course, two tiny plastic strips around the top and bottom to hide the antennas, but we are used to seeing these everywhere these days. The aluminum back panel between those is fully removable as is the battery itself.
There is a rear-mounted fingerprint sensor at the back, which also doubles as a home and power key - just like it did on the V10. Above is a tiny camera hump, housing the two sensors and the flash.
A closer inspection on the phablet's sides reveals nothing out of the ordinary - the two volume keys are on the left, the top has the secondary mic and the IR blaster. The bottom houses the USB Type-C port flanked by the audio jack, the loudspeaker grille and the primary mic.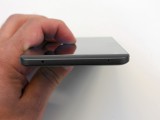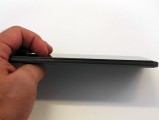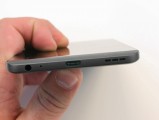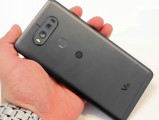 A peek around the sides of the V20
The front is quite interesting - the 5.7" inch screen is as flagship grade as it gets with top-notch resolution, great contrast, colors, and sunlight legibility. Right above it is the secondary screen, which is wired separately and is independent from the main one. This allows the tiny fella to be very efficient, even though it's always on. It should cost you just below 5% of your battery capacity per day which is quite acceptable.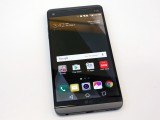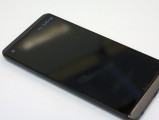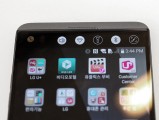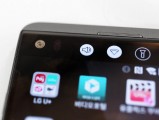 A look at the front and its two displays
The secondary display is a tad longer than the V10's and LG doubled its brightness (68 nits). The new unit also supports longer signature of 24 digits (vs 14 at V10). The number of notification icons and the clock is the same. It can still show Info (time, weather, appointments, in-app controls), recent apps and app shortcuts, quick tools or simply your signature.
Popping the battery cover is easy as is removing the battery itself. LG says its focus was towards the users who are used to swap battery and have tried to make the experience smooth for them.
Handling the LG V20 is a pleasure - the phone is about 50g lighter than the V10, and you can tell it right away. The new material feels premium and the new shape suits it great. Operating with the V20 is a flagship experience itself, even before you dig into testing the power of its Snapdragon 820 beast inside.