LG will be launching its flagship V20 in India on December 5. The company has sent out media invites for the same.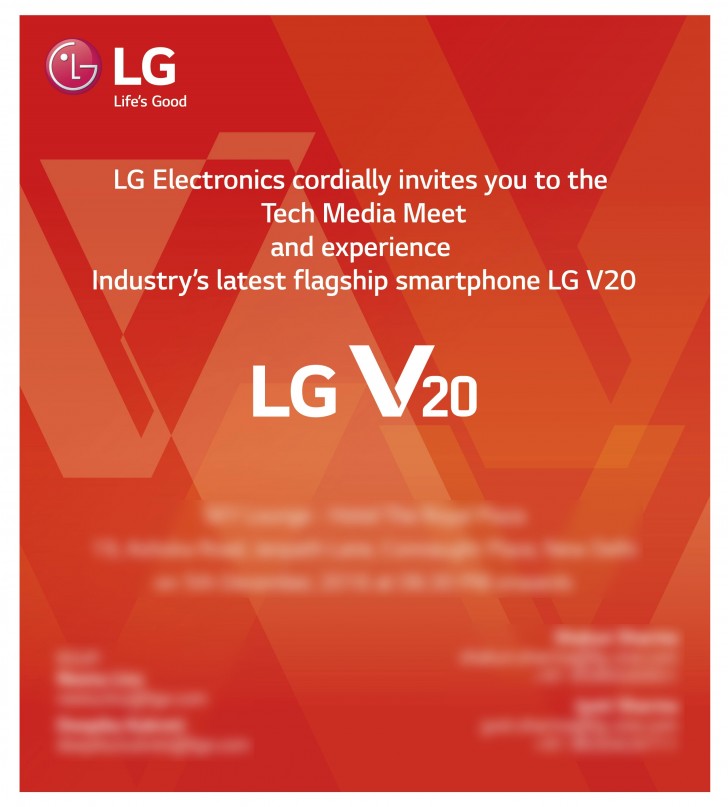 Yesterday we reported that the LG V20 was already being received by retailers. The phone is priced at INR 54,999 ($808).
The V20 is the latest and greatest from LG. It has a 5.7-inch QHD display, Snapdragon 820 processor, 4GB RAM, 64GB expandable storage, dual rear camera with 16 megapixel wide angle camera and 8 megapixel ultra wide angle camera, 5 megapixel wide angle front camera, 3200mAh battery, and Android 7.0 Nougat. The phone comes with complimentary B&O headset and a silicone case.
Further availability details will be available at launch.
S
Your comments is probably 100% wrong, here is why (plural WISE!) 1st many parties if you're late for one you go to another one, this is for people needing a new phone now 2nd many people when in a phone shop are at the 'mercy' of the sales s...
D
Few comments regarding lower sales of V20 because of demonetization are baseless and quite comic. Only notes of Rs. 500 and 1000 are banned. Cheques, DDs, credit and debit cards are not. In fact Government is encouraging the use of these. Which idiot...
D
there are btter wired and wired headsets most flagship buyers already have ..u also know thats a fact ..dont just convience urself to be happy with the B&O headset...Btw Fire can get to your face too..stop living in denial.