Screen
While Huawei has dabbled with OLED, it chose an IPS LCD for the Mate 9. The LG V20 also uses an IPS screen but both are at very different resolutions - QHD/513ppi for the V20, 1080p/373ppi for the Mate 9. We think 1080p is a bit of a stretch at 5.9", but it works out well enough (if it was an OLED, the PenTile matrix would have been an issue).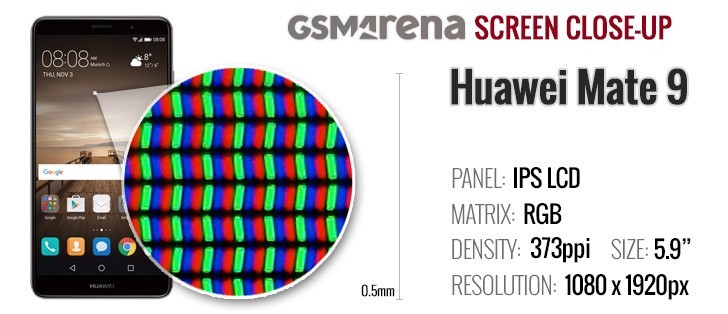 The Mate 9 screen offers superb contrast, topped by very few devices - 1,600:1, compared to LG V20's 1,100:1. The maximum brightness of both is pretty close, but the Huawei has deeper blacks. Images really pop on this display.
Display test
100% brightness
Black, cd/m2
White, cd/m2
Contrast ratio
LG V20
0.43
475
1097
LG V20 (max auto)
0.59
628
1064
Huawei Mate 9
0.41
665
1622
Both displays are hurt by the reflectivity of the glass above them - the LG V20 more than the Mate 9. So even though the sunlight numbers appear fairly close, in practice we had an easier time reading the Huawei display. Also, it gives you full control over the entire range of brightness while with the LG you get the peak brightness levels only when the Auto brightness mode decides to go into overdrive.
Sunlight contrast ratio
Samsung Galaxy S6 edge+
4.615
Samsung Galaxy S7 edge
4.439
OnePlus 3
4.424
Samsung Galaxy S7
4.376
HTC One A9
4.274
Samsung Galaxy Note7
4.247
Samsung Galaxy A3
4.241
OnePlus 3T
4.232
Google Pixel XL
4.164
ZTE Axon 7
4.154
Samsung Galaxy S6 edge
4.124
Samsung Galaxy Note5
4.09
Huawei Nexus 6P
4.019
OnePlus X
3.983
Vivo Xplay5 Elite
3.983
Oppo R7s
3.964
Apple iPhone 7
3.964
Huawei P9 Plus
3.956
Meizu Pro 6 Plus
3.935
Lenovo Moto Z
3.931
Samsung Galaxy A7 (2016)
3.918
Samsung Galaxy C5
3.911
Samsung Galaxy C7
3.896
Samsung Galaxy A5
3.895
Samsung Galaxy J7 outdoor
3.879
Samsung Galaxy J2 outdoor
3.873
Samsung Galaxy A8
3.859
Samsung Galaxy A9 (2016)
3.817
Motorola Moto X (2014)
3.816
Samsung Galaxy A5 (2017)
3.804
Samsung Galaxy J7 (2016) outdoor mode
3.802
LG V20 Max auto
3.798
Xiaomi Redmi Pro
3.798
Sony Xperia XZ
3.795
Samsung Galaxy A5 (2016)
3.789
Apple iPhone 6s
3.783
Meizu Pro 5
3.781
Microsoft Lumia 650
3.772
Samsung Galaxy J7 (2016)
3.756
Oppo F1 Plus
3.709
Vivo X5Pro
3.706
Sony Xperia X Compact
3.694
Samsung Galaxy A3 (2017)
3.688
Apple iPhone SE
3.681
Huawei Mate 9
3.68
Samsung Galaxy A7
3.679
Meizu PRO 6
3.659
BlackBerry Priv
3.645
Apple iPhone 7 Plus
3.588
Apple iPhone 6s Plus
3.53
Motorola Moto Z Play
3.526
Samsung Galaxy J3 (2016)
3.523
Samsung Galaxy J3 (2016) outdoor mode
3.523
Acer Jade Primo
3.521
Microsoft Lumia 950
3.512
Oppo R7 Plus
3.499
nubia Z11
3.466
Samsung Galaxy J7
3.422
Meizu MX5
3.416
LG V20
3.402
Oppo R9s
3.352
Oppo R7
3.32
Lenovo P2
3.316
Xiaomi Mi 5s
3.276
Samsung Galaxy J2
3.235
Sony Xperia X Performance
3.234
Xiaomi Mi Note 2
3.228
Motorola Moto X Play
3.222
Huawei P9
3.195
Lenovo Vibe Shot
3.113
Motorola Moto X Force
3.105
LG Nexus 5X
3.092
Huawei Mate S
3.073
Microsoft Lumia 640 XL
3.065
Sony Xperia X
2.989
Huawei Mate 8
2.949
Xiaomi Redmi 3S
2.913
Sony Xperia XA Ultra
2.906
LG G5
2.905
HTC One S
2.901
Xiaomi Redmi 3s Prime
2.893
Xiaomi Mi 5s Plus
2.884
Sony Xperia Z5
2.876
Microsoft Lumia 550
2.851
Lenovo Moto M
2.813
Xiaomi Redmi 3 Pro
2.803
Sony Xperia Z5 compact
2.784
Meizu MX6
2.751
LG V10
2.744
Xiaomi Redmi 3
2.735
Sony Xperia M5
2.69
Huawei P9 Lite
2.679
Xiaomi Redmi 4 Prime
2.679
Vivo V3Max
2.659
Xiaomi Mi Mix
2.658
Xiaomi Mi 4i
2.641
Sony Xperia XA
2.609
Motorola Moto G4 Plus (max auto)
2.582
Motorola Moto G4 Plus
2.582
Xiaomi Mi 4c
2.574
LeEco Le Max 2
2.567
Asus Zenfone 3 ZE552KL
2.563
Microsoft Lumia 640
2.563
Lenovo Moto G4
2.544
Lenovo K6 Note
2.544
Oppo F1
2.528
Sony Xperia Z5 Premium
2.525
Huawei Honor 7 Lite / Honor 5c
2.506
Sony Xperia M4 Aqua
2.503
Oppo F1s
2.481
Motorola Moto G
2.477
Lenovo Vibe K5 Plus
2.473
Huawei G8
2.471
Huawei nova
2.467
Sony Xperia Z
2.462
Lenovo Vibe K5
2.459
Meizu m3 max
2.447
Huawei Honor 7
2.406
Sony Xperia E5
2.386
ZUK Z1 by Lenovo
2.382
HTC 10
2.378
Samsung Galaxy J5 (2016)
2.378
Meizu m1 note
2.362
Huawei nova plus
2.329
HTC One E9+
2.305
Alcatel One Touch Hero
2.272
Apple iPhone 4S
2.269
Lenovo Vibe K4 Note
2.254
Sony Xperia C5 Ultra
2.253
Xiaomi Redmi Note 3 (MediaTek)
2.249
Sony Xperia C4 Dual
2.235
Xiaomi Mi Note
2.234
Motorola Moto G (2014)
2.233
Huawei P8
2.196
Huawei Honor 6
2.169
Xiaomi Redmi Note 2
2.166
OnePlus Two
2.165
HTC One X
2.158
Xiaomi Redmi Note 4
2.145
LG Aka
2.145
Archos 50 Diamond
2.134
Xiaomi Redmi Note
2.119
Acer Liquid X2
2.084
Huawei P8lite
2.078
Moto G 3rd gen max manual
2.026
Xiaomi Mi Max
1.996
Sony Xperia E4g
1.972
OnePlus One
1.961
Meizu m3 note
1.923
BlackBerry Leap
1.892
Meizu m2 note
1.892
ZTE Nubia Z9 mini
1.759
Sony Xperia U
1.758
Asus Zenfone Selfie
1.68
Motorola Moto E (2nd Gen)
1.675
ZTE Nubia Z9
1.659
Jolla Jolla
1.605
Motorola Moto E
1.545
Sony Xperia M
1.473
Xiaomi Redmi 2
1.311
HTC Desire C
1.3
Sony Xperia C
1.283
Meizu MX
1.221
Sony Xperia E
1.215
While contrast can make an image pop, most makers also boost the color saturation. Neither LG nor Huawei managed to calibrate their displays perfectly and they achieved average deltaE of around 5 and a maximum of around 9. The Mate 9 has a Warm mode, which drops the average a bit but despite what the mode is called, the screen maintains its blue tint.
The color accuracy is "good enough" but not terribly exciting for a flagship. Apple is pushing Wide Color Gamut displays, Samsung tried to bring HDR to mobile (with the Note7, perhaps it will have another go with the S8).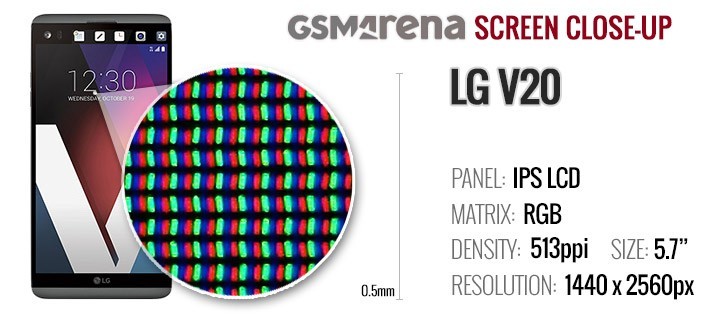 We mentioned LG V20's second screen in passing, but didn't go into details. Time to change that - the 2.1" line display has the same pixel density as the main screen but is always on. This offers at-a-glance info and instant shortcuts (no need to unlock the phone).
This display offers vital functionality when the main screen is on too - we especially like it for multitasking, it's a desktop-like feeling to tap on an app's icon and jump back to it.
Winner: Tie, again. The Huawei Mate 9 flirted with victory, its larger display offers impressive contrast ratio and better legibility in broad daylight. Still, only 1080p resolution on a 5.9" diagonal? We don't mind it much, but at this price range we expect the best.
The LG V20 display is indeed sharper and the secondary screen is marketed as a perk. We think an Always On Display is better of at-a-glance information and the added UI features that live on the extra screen are mostly limited to LG software.
Connectivity
Both phones feature modems with blazing fast 4G LTE - up to Cat. 12 with 3 Carrier Aggregation. The LG has an extra band, AWS-3, which will enable better LTE reception in metropolitan areas in a few years' time (carriers need time to upgrade their networks). Both phones offer VoLTE for higher quality audio in calls.
They also offer fast Wi-Fi a/b/g/n/ac and Bluetooth 4.2, but only the LG has aptX. This continues the story of high-quality sound. If you use wired headphones instead, the quad-DAC (ESS ES9218) produces less noise. The LG V20 can also use USB-C headphones if you have them (you probably don't but still).
Both phones have USB-C ports, but the Huawei Mate 9 is wired only for USB 2.0 speeds. The LG V20 supports the much faster 3.0 standard, but LG didn't include the right cable for it so you'll be getting USB 2.0 speeds unless you bring your own cable.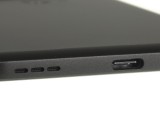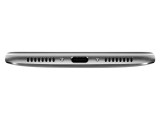 USB-C (3.0) on the LG V20 • USB-C again (but 2.0) on the Mate 9
If the head unit in your car supports MirrorLink, you can enjoy Android Auto with either phone. And they have IR blasters to control stuff at home too. That leaves one extra advantage for the LG - FM radio. Many have stopped using it, but some still turn it on daily.
Winner: LG V20. The advantages may not be immediately visible, but you may appreciate them in time. The benefits of aptX-compatible Bluetooth headphones will only work with the V20. AT&T and co. will roll out the AWS-3 sooner rather than later and you'll get better coverage. You may even get a USB-C 3.0 if you still transfer data over wires. And hey, it's better to have FM radio than not have it.
Battery life
The Huawei Mate 9 comes with the bigger battery (4,000mAh) and faster charger (22.5W). Perhaps the LG V20 will be more efficient with its hardware (3,200mAh battery, 16W charger).
That turned out not to be the case, the V20 lasted a good deal less in web browsing and video playback. The endurance rating is lower too, but we tested the worst case scenario - when the second screen never turns off. Even without that, the lower times in the two tests means the battery will deplete faster. You could, if you wanted to, carry a spare battery, though we think few will do that.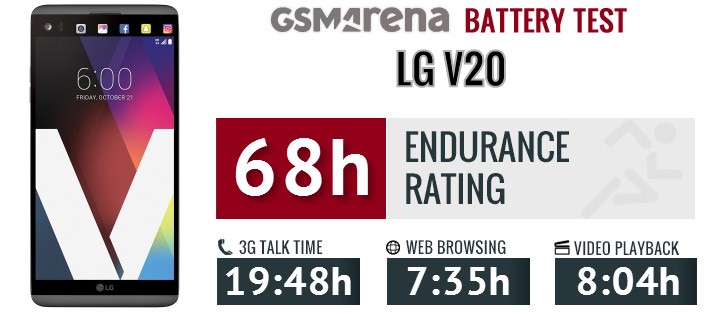 We tested Huawei's SuperCharge tech and watched the battery percentage climb quickly - from 2% to 20% in 10 minutes, to 40% in another 10 and on to 50% in another 5 minutes. You can get to 90% in an hour total, but things slow down significantly from there.
Still, that's 90% of a 4,000mAh battery. The LG V20 takes about an hour and a half to fill its battery from flat to full.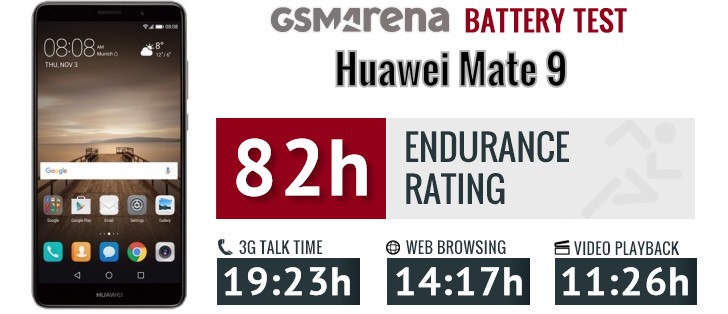 Winner: Huawei Mate 9. Faster to charge, slower to deplete is what we want to hear. You can browse the web nearly twice as long on the Mate 9 as you can with the V20, a huge difference!