Both Samsung and LG have been in the news lately as the anticipation for both smartphone makers to release their second flagship device of the year, halving the life cycle of its main flagship counterpart (Galaxy S8 and LG G6, respectively).
The LG V30 was spotted in the popular GeekBench app with a Snapdragon 835 paired with 4GB of RAM. Which has silently become the standard hardware setup for flagship smartphones this year like the Galaxy S8 and the HTC U11. Meanwhile, other Chinese smartphone makers are putting 6GB of more of RAM their devices like the Xiaomi Mi 6 and the OnePlus 5.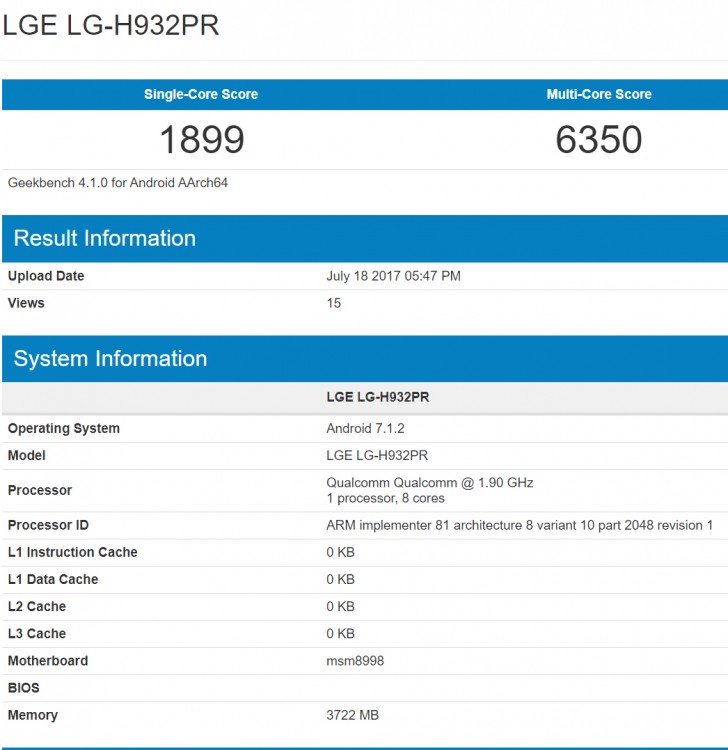 The device tested ran the very latest Android Nougat version 7.1.2 and while the device's multi-core result is well around the 6,300 mark, it technically didn't beat the Xiaomi Mi 6's score of over 6,700.
The LG V30 is expected to drop the secondary display from its V-series predecessors in favor of a 6.0-inch 2:1 aspect ratio Full Vision OLED display. Like the G6, the V30 will have a new integrated design with a non-removable battery and water resistance. The phone is also rumored to ship with built-in wireless charging capabilities.
There's not much more than a month left for LG to announce the V30. LG already sent out save-the-date invites for August 31 in Berlin, the day before IFA kicks off.
Source | Via (Translated)
D
i wholeheartedly agree they make the absolute best TVs but if the LG V30 comes with less than 6GB RAM it is out as far as my next phone
?
In fact yeah better in many ways No burn in effect. Better white no reddish pinkish tint like S8 and S8 plus Super Amoled Better suppixel arrangement real colors RGB 3 suppixel red green and blue unlike Amoled 2 suppixel that's why Samsung...
R
There were waterproof phones with replaceable batteries before there were unibody phones. Not sure why people keep repeating this myth. From the top of my head we have the venerable Ericsson "The Shark Fin"(one of the earliest REALLY rugged phones wh...
ADVERTISEMENTS