The list of LG smartphones for which bootloader unlocking is officially supported has been updated once again. This time, it's the LG V30 that's been added to the list - specifically, the H930 model that's on sale in some parts of Europe and the H930G Italy-only variant.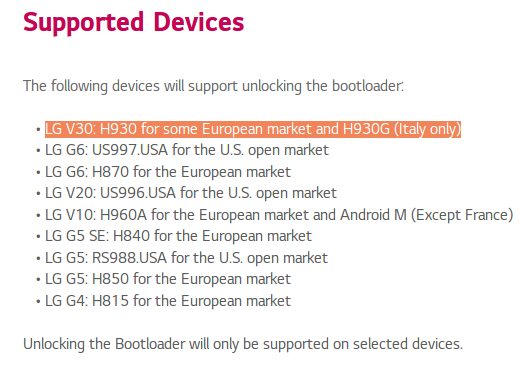 If you aren't already aware, the bootloader unlocking process allows you to do things like running a custom ROM on your unit. But keep in mind that it voids your device's warranty as well.
For detailed information on how to unlock the bootloader of your LG device, head to the Source link below.
D
Already root my mobile....
K
Still no love for us LG G6 870DS owners out there? We do exist, and we are many. We even have a $3,000 bounty to the first person to crack it. (The DS model is the best specced model, and was the cheapest Hong Kong/grey import)
Z
LG is worst phone updater. And unlock bootloaders only for tiny amount of phones, usually for Western Europe. And people cannot even install lineage os instead of bad and glitchy official ui. Why? Just because it's LG.