Single screen - good. Dual Screen - just as good
The Velvet is equipped with a 6.8-inch display of 1080x2460px resolution in a relatively unorthodox 20.5:9 aspect ratio. The pixel density works out to 395ppi. LG markets the panel as P-OLED, 'P' as in plastic, which is realistically all current phone OLEDs. Then again, all current phone OLEDs are active-matrix too, but only Samsung's are known as AMOLED. Anyway, LG also calls it Cinematic FullVision Display, which is an allusion to both its wide aspect and the minimal bezels, probably.
The Velvet's display is missing one key feature for a premium phone this year and that's a high refresh rate - it's a standard 60-hertz panel. The OnePlus 8 and the Motorola Edge can do 90Hz.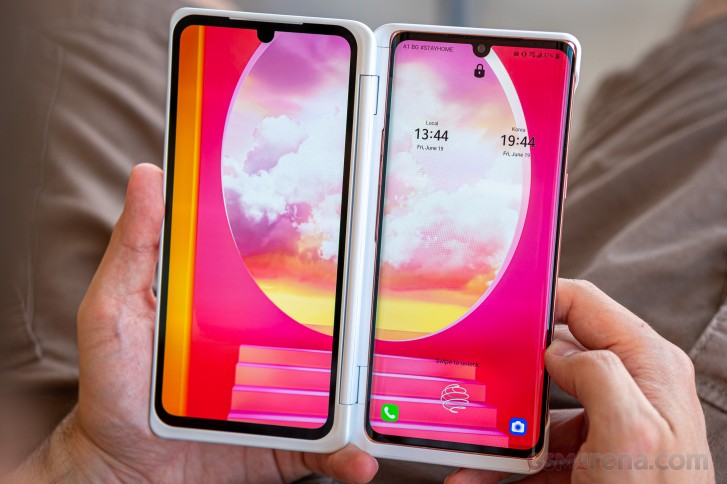 In our testing, the phone posted predictable numbers for brightness - around 400nits when adjusting the slider manually, a little over 600nits when the adaptive brightness takes over under direct light. The current flagships are capable of upwards of 800nits in auto mode, but the 400nits ballpark is common across all tiers of OLEDs. We got 2.4nits out of the Velvet with the slider all the way to the left - so it won't be a burden on your eyes in very dim surroundings.
Display test
100% brightness
Black,cd/m2
White,cd/m2
Contrast ratio
LG Velvet
0
405
∞
LG Velvet (Max Auto)
0
617
∞
Motorola Edge
0
416
∞
Motorola Edge (Max Auto)
0
595
∞
Samsung Galaxy A71
0
398
∞
Samsung Galaxy A71 (Max Auto)
0
515
∞
Samsung Galaxy S10 Lite
0
400
∞
Samsung Galaxy S10 Lite (Max Auto)
0
705
∞
Realme X50 Pro 5G
0
525
∞
Realme X50 Pro 5G (Max Auto)
0
635
∞
Samsung Galaxy S20
0
397
∞
Samsung Galaxy S20 (Max Auto)
0
814
∞
Huawei P40
0
440
∞
Huawei P40 (Max Auto)
0
589
∞
LG V60 ThinQ 5G
0
511
∞
LG V60 ThinQ 5G (Max Auto)
0
622
∞
OnePlus 8
0
496
∞
OnePlus 8 (Max Auto)
0
803
∞
Xiaomi Mi 10 5G
0
522
∞
Xiaomi Mi 10 5G (Max Auto)
0
854
∞
The Dual Screen accessory can be set to match the main display's brightness or you can have it locked at a certain percentage level, irrespective of what you have on the main one. With the DS attached, we got a maximum of around 500nits on both displays with the auto toggle engaged - so the Velvet won't be as bright when it has to power both screens, but it's still easily bright enough.
Color reproduction on the Velvet is handled by a four-position menu with a further options depending on which mode you have it set in. Let's get this out of the way from the get go - there's no pre-set that accurately reproduces the sRGB color space. While we can't say we'd ever miss it, if sRGB is your thing, the Velvet in its current state isn't.
The out-of-the-box Natural mode gave us an average deltaE of 4.0 for the set of DCI-P3 test swatches - not 'calibrated' per se, but not straight up bad either. It comes with a slight blue shift to the whites and grays, to the tune of deltaE of 6, but once again it's far from the worst offenders in this respect. This mode comes with a 5-position Cooler-to-Warmer color temperature slider but bumping that from the midpoint towards warm only made things worse with the bluish tint shifting to purplish and deltaE increasing both on the white point and overall. Default it is then.
Next up in the menu is Vivid and that brought no appreciable difference to accuracy, though white in particular got bluer. Cinema mode got the white within a deltaE 2 of perfection and the average went down to 3.3. No sliders for further tweaking in these two modes.
Then there's the Custom mode, which does have sliders aplenty. The Color temperature one makes a return, joined by RGB sliders and then three more - for Saturation, Hue and Sharpness. At this point we called it a day.
LG makes no claims for HDR support on the Velvet, which to us sounds like a licensing-based decision more than actual hardware capability. YouTube will serve HDR content to the Velvet, and you'll be able to spot the phone changing its brightness and color reproduction when you play an HDR clip. Amazon Prime, too, will stream in HDR to the Velvet. Netflix, on the other hand, won't play nicely. The L1 Widevine level is supported, so it's not a DRM issue. The Velvet isn't listed on Netflix's supported devices page, while a ton of other LGs are, so HDR support could be a matter of time.
LG Velvet battery life
There's a 4,300mAh battery inside the LG Velvet - that would have been a huge number a year or two ago, today it's just about right. The Motorola Edge and the Galaxy A71 5G each have a 4,500mAh power pack, the OnePlus 8 relies on a cell of the Velvet's 4,300mAh capacity.
We ran our usual battery tests on the LG Velvet and got respectable results. At close to 16 hours of looping videos offline and over 12 hours of Wi-Fi web browsing, the screen-on numbers are very good. Almost 25 hours of voice call endurance is also pretty decent. The standby performance wasn't as impressive, and that's what brought down the overall Endurance rating to 79 hours.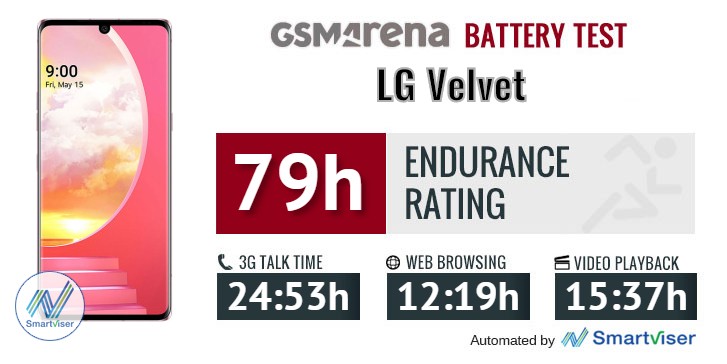 Our battery tests were automated thanks to SmartViser, using its viSer App. The endurance rating above denotes how long a single battery charge will last you if you use the LG Velvet for an hour each of telephony, web browsing, and video playback daily. We've established this usage pattern so that our battery results are comparable across devices in the most common day-to-day tasks. The battery testing procedure is described in detail in case you're interested in the nitty-gritty. You can check out our complete battery test table, where you can see how all of the smartphones we've tested will compare under your own typical use.
The Velvet comes with a 16.2W adapter bundled and advertised support for 25W charging. We clocked its charging time with the included brick and got 1:59h from zero to full with 33% in the status bar 30 minutes into the process. Both are unremarkable numbers and charging feels slow in 2020.
We tried a couple of other adapters we had lying around - Samsung's 25W unit with PowerDelivery and PPS and a high-quality after-market brick capable of 65 watts. The differences we measured were in the single digits, both in percentage points at the 30-minute mark and in minutes to full charge. We gather that LG just chose a conservative power management curve for the Velvet. On the one hand that means it's no big deal that the bundled adapter is only capable of 16W output, on the other - what's with the advertised 25 watts?
The Velvet is also capable of wireless charging and is certified for the Extended Power Profile as the Qi standard goes. It doesn't go all the up to the standard's 15W spec, instead it maxes out at 9W according to the LG papers and 10W according to the Wireless Power Consortium's database listing. Wireless charging on the Velvet also works with the Dual Screen accessory mounted.
As for charging the phone over a cable with the DS on, we measured no appreciable difference introduced by the magnetic adaptor.
Speaker test
The Velvet has a stereo speaker setup of the most common type - there's a 'primary' speaker on the bottom, firing downwards, and the front-facing earpiece acts as the other channel. The speakers will respect the phone's position when held in landscape and will direct the correct channel to the correct speaker.
The Velvet fared very well in terms of loudness in our test, earning a 'Very Good' score. That's way ahead of the Motorola Edge's 'Below average', but not quite as loud as the OnePlus 8. The Velvet's output has lively vocals and well defined high notes, but little in the way bass thump.
Use the Playback controls to listen to the phone sample recordings (best use headphones). We measure the average loudness of the speakers in LUFS. A lower absolute value means a louder sound. A look at the frequency response chart will tell you how far off the ideal "0db" flat line is the reproduction of the bass, treble, and mid frequencies. You can add more phones to compare how they differ. The scores and ratings are not comparable with our older loudspeaker test. Learn more about how we test here.
Audio output quality
We've recently discontinued our audio output quality test.
The reason for that is that most phones that arrived for testing were already excellent in this regard and whatever difference there was, it was marginal and probably indistinguishable to anything but our lab equipment.