T-Mobile is getting a scoopful of affordable LG phones and there's another LG on the verge of becoming official - the LG GM360 Viewty Snap otherwise known as Bali. Two of the LG handsets for T-Mobile are not new models, but rebranded current models - one of the Cookie family and the Lollipop.
The LG GM360 Viewty Snap is an affordable descendant of the Viewty - it's a touch phone with 3-inch screen with 240x400 pixels resolution and a 5MP camera with LED flash.
The LG GM360 Viewty Snap offers just GSM/EDGE network connectivity, but there's Wi-Fi on board, which makes up for that. The Wi-Fi supports the b/g standards and DLNA. The UI appears to be the one used on mid-end LG devices, like the LG KM570 Cookie Gig.
There are mentions of the LG GM360 on LG's site but no official specs or release date yet.
Now, for the T-Mobile bound LGs. The first one is called LG Senio - a rebranded LG GS500 Cookie Plus. What you have to look forward to is a 3" WQVGA touchscreen, 3MP camera and 3G connectivity. There's a slight difference between the LG Senio and the GS500 Cookie Plus - there's an added GPS receiver and it also comes with T-Mobile's web2go and Social Buzz services.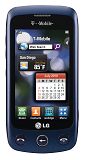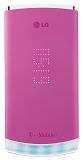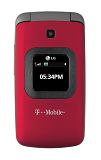 LG Sentio • LG dLite open and closed • LG GS170
Next up is the LG dLite or LG GD580 Lollipop clamshell in new clothes. It packs a 2.8" non-touch WQVGA screen and 3G connectivity. It too has a 3MP snapper and Social Buzz. Both the LG dLite and the LG Senio have a microSD card slot to expand their memories.
Last comes the LG GS170 - another clamshell, but this one is decidedly low-end. It's got a VGA camera, email support and Bluetooth 2.1.
The T-Mobile LG trio will be available this summer.
D
My wife has an LG GS170 cell phone. Basic, but OK for her use. We're so disgusted with the customer service (or lack thereof) at T-Mobile that we want to use another pre-paid minutes plan. Will this phone work with another plan?
M
If you are used to Nokia like I am, then this is NOT the phone for you. I just bought this phone an hour ago and I've already decided it's going back for a refund. I put a hole in my wall from the frustration this phone has caused me for the time I'v...
a
i want to buy this phone, but im not quite sure about it, can someone plz tell me more about this phone, and the things they have experienced with having this phone. thank you
ADVERTISEMENTS