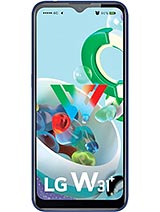 A
I think the price is not looking great for this one, worse yet it has a huge screen and only 4000mAh sure the P22 is a very power efficient chip and 720p helps it save battery here... Overall not a battery champ it will be fine for most people or the average user that will not game heavy 3D games but I do fear its price may be its worst enemy...
3213
463
BBC, 14 Nov 2020OK. Are You Serious?$165 and it only has a terrible P22 and a 60hz 720p LCD? Yeah I'm serious.
B
joe nodden, 09 Nov 2020Stop embarrassing yourself LG.OK. Are You Serious?
?
Anonymous, 10 Nov 2020Dream chipset Dream sizefor 26$ its good to use it as fifth phone
3213
463
Stop embarrassing yourself LG.
Total of 27 user reviews and opinions for LG W31+.