Introduction
LG is a veteran of sorts in the emerging niche of smart wearables. The Watch Urbane is a third generation device refining one of the early circular designs that seem to be the thing now. Smart watches are aiming for a less gadgety look in favor of a classic timepiece design. It's what helped the LG G Watch R get noticed and the Urbane is a cautious refresh rather than a complete overhaul.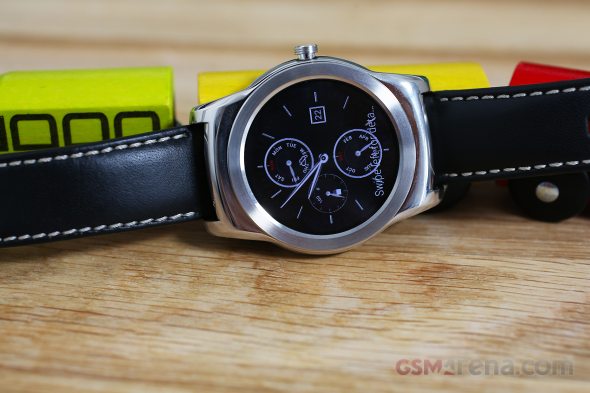 The LG Watch Urbane isn't doing anything crazy and that's not necessarily a bad thing. The new smartwatch has kept the size, screen technology and most of the hardware of the G Watch R, packaging it all up in an even more traditional timepiece exterior.
Although there's no mechanism inside, in classic watch terms, the G Watch R is using an interesting combination of internals. If the hardware specs sound familiar to you, that's no coincidence. The software has received a welcome upgrade though.
Key features
1.3" Full Circle P-OLED display, 320 x 320 pixels, 245ppi, 33mm screen diameter
Qualcomm Snapdragon 400 (MSM8226), quad-core 1.2GHz Cortex-A7 CPU, 512MB of RAM, 4GB of internal storage (3GB available to user)
410mAh Li-Ion battery, rated at 2 days of uptime
45.5 x 52.2 x 10.9mm, 66.5g, genuine leather stitched strap, 22mm, changeable
Stainless steel casing, IP-67 certified, water-resistant for 30 minutes, up to 1 meter deep
Android Wear 5.1.1 with Google Now integration
PPG Heart rate sensor, 9-axis gyro, accelerometer, compass, barometer
Wi-Fi and Bluetooth 4.1 LE
Vibration
Main disadvantages
Polished exterior isn't particularly subtle. Perhaps a touch too much gloss
Limited choice of casing colors, no black option
Android Wear still suffers bugs and stability issues
No ambient light sensor
So, the LG Watch Urbane is pretty similar to its predecessor. The overall form-factor is almost identical, as LG has gone for a classic round watch face once again. The 1.3-inch P-OLED display seems to be the right choice of screen technology in terms of power efficiency and sunlight legibility.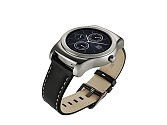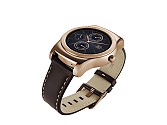 LG Watch Urbane official photos
The internals are also mostly borrowed from the G Watch R. There are a few notable additions, like Wi-Fi, but the basics remain unchanged. LG has skipped on GPS and a speaker yet again, both available in the Samsung rival. Admittedly, both would have decreased battery life and don't quite fit in the current Android Wear concept.
It is definitely worth noting that there is an LTE version of the wearable out there, but the two have nearly nothing in common beyond the looks - with different size and weight, hardware and, above all, the underlying platform. Android Wear powers the regular version while the Urbane LTE was done on LG's own time, so to speak, relying on the WebOS-based LG Wearable Platform.
By the looks of it, the LG Watch Urbane is a mildly updated version of its well-received predecessor, mostly intended to take a new market turn and target a more formal, business lifestyle. It currently retails for about $349, which is about what the cheapest Apple Watch costs, and a good $100 more than the G Watch R.
So, is the upgrade worth that much and is the new wearable capable of becoming an instant classic? Follow along as we try to find out.
J
Another pointless watch that is less use than having an analogue watch and mobile phone as it wont work without the phone nearby and the very limited battery life makes it far less useful than a standard watch. bought this to provide on wrist ca...
l
watch ....verry verry nice
A
I have like watch .thanks