Apps
As for the preinstalled apps, not much has changed with the new OS and most things are borrowed from the LG G Watch R. There are still some notable new additions. The agenda app is pretty self-explanatory. It pulls your calendar items and lets you browse. Sadly, there is still no way to add a task from the app itself. This, however, can be done via a voice command and, seeing how you don't really have any way to type it out, the decision is all but justified.
Other familiar features include a timer and an alarm app, both with nothing really new to offer. Naturally, you can also ping to locate your phone.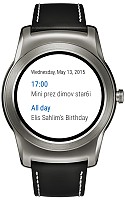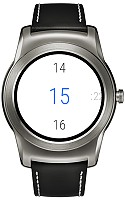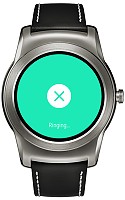 Familiar agenda, alarm and find phone apps
Another neat little trick is the added flashlight feature. All it does is blast the brightness and set a white background on the watch, but it is pretty convenient for getting around in the dark.
The LG Watch Urbane is trying to carry more sophistication than its predecessor, but it is still quite capable as a casual fitness tracker. The pedometer and heart-rate sensor are both available, even if the exterior doesn't really urge towards a messy exercise session.
This being said, Google Fit integration is readily available and practically always on. The device is constantly keeping track of your steps. You can disable the tracking altogether. The Google Fit app itself is unchanged, but it really doesn't need to be as it already does what it sets out to achieve. For the most part, it is independent from your phone and doesn't even need its full Android counterpart installed on the handset.
If, however, you really don't like using Google's fitness app, but still wouldn't mind checking your pulse from time to time, LG has you covered. One of the new additions in the Watch Urbane is LG Pulse. It does exactly what it says on the tin, but with a twist. Besides measuring your pulse once, on demand, like Google Fit does, you can just leave LG's own app on. This means, it will continue measuring your heart rate until further notice.
Presumably, the concept here is that you can track your heart rate throughout an entire exercise session, but this is more of a gimmick than an actual feature. The PPG heart rate sensor on the Watch Urbane, just like other smartwatches works by detecting subtle changes in the skin. Hence, it is inherently erratic. We even managed to measure a steady heart rate of about 88 beats on nothing but air while the watch was off our wrist. The point being, that you really want to stand still to give the watch a better chance of giving you a fairly accurate reading.
However, it is definitely worth noting that LG put a lot of effort into the Pulse app. It is beautifully crafted, has nice little features like keeping a history and even a dedicated low-energy consumption mode, just like the watch faces.
The LG Watch Urbane is also more than capable of handling your voice and text communication. As already mentioned, the second tab on the main menu is a contacts browser. It is organized in much the same way as the apps pane. The contacts you frequent most are on top, followed by an alphabetical list. Clicking on an entry brings up the options to call, send a text or email.
Both text options bring up a voice-typing interface, along with emoji drawing and some useful present messages. Calling simply initiates a voice call on your handset.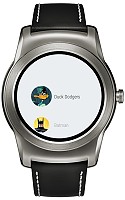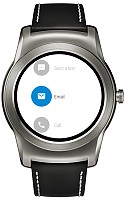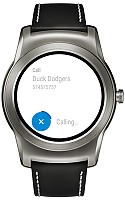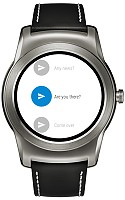 Default contacts, messaging and calling
An LG Call app preloaded on the Watch Urbane requires installing a counterpart on the smartphone, but it is a background service and leaves almost no trace of its presence.
The app itself does almost the same as the default contacts feature in Android Wear 5.1.1, making its inclusion a little bit questionable. It does, however, offer quick access to favorites and a dedicated dialer, so the added functionality is there.
The app was initially said to only support the Watch Urbane, leaving a lot of unhappy G Watch R owners. It later became clear that it only requires the new version of Android Wear, which the G Watch R is getting. So, everything should be fine once the older wearable gets the software update.