Final thoughts
In many ways, the LG Watch Urbane is a regular member of the company's smartwatch line. It is a new product, with a fresh exterior, trying to target a different demographic. In all fairness, it isn't much different from the G Watch R after all. The hardware in the pair is almost identical, to such a degree that even the apparent inclusion of Wi-Fi, is nothing more than utilizing a radio that was already there.
So, the true question here isn't really whether the Watch Urbane is good or bad. LG has definitely managed to refine the G Watch R, with no glaring compromises. The real head scratcher is whether or not the new business attire is worth the extra $100. This is by no means a small amount, especially considering smartwatches are a long way from becoming a must-have.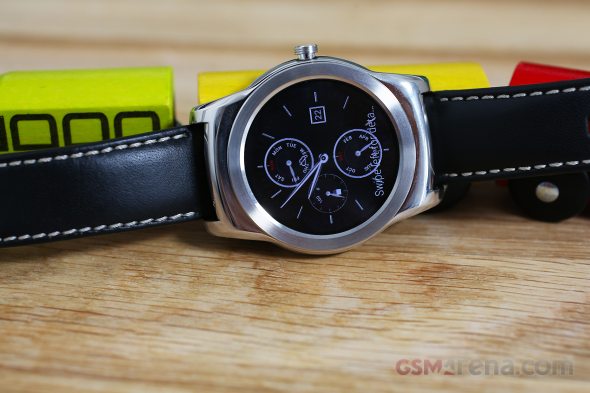 So, the LG Watch Urbane puts us in quite an awkward situation, where the only thing we can really judge it by is looks. That, of course, is absolutely subjective. Arguably, the Watch Urbane has more class than its predecessor, which in turn has better off-road abilities, so to speak. Plus, the all-black exterior of the G Watch R isn't too shabby either.
A sensible buyer looking for their first smartwatch should have no trouble picking a favorite. The G Watch R is the practical choice, and not just because of price. It's the watch for your runs and workouts while the Urbane doesn't quite belong on a wrist of a hand that's about to get dirty. There is really no right or wrong answer here. If you appreciate the more upscale looks and independence (read Wi-Fi), the extra $100 may as well be justified.
But let's put the sibling rivalry aside for a moment and analyze the Watch Urbane for what it is. Here is what we gathered from our tests.
Key Test Findings:
Compared to other round wearables, the Watch Urbane is bigger than the Moto360, but also a little thinner than the Huawei Watch;
Build quality is top notch, if you don't like the wrist strap you can change it with a standard 22mm one;
The 1.3" P-OLED display is sharp enough and has deep blacks;
You can count on 2 days of moderate usage on a single charge. Be prepared for less, however, if you are going to need plenty of Wi-Fi;
The new Android Wear 5.1.1 is still a little rough around the edges, but is a major improvement over its predecessor in terms of ease of use and convenience;
The software advantage will be short-lived as the new Android Wear platform gets more widely available.
LG has gone the extra mile packing a few interesting custom apps into the Watch Urbane. They do work as intended and add value;
Wi-Fi is a nice extra feature to have that opens up new possible use cases but the controversy around the G Watch R and its dormant Wi-Fi capabilities raise some valid questions about sales tactics and might end up harming the Watch Urbane;
A while ago, when the Apple Watch had just come out, we asked you to compare the Cupertino wearable and to a number of competing smartwatches. Beside quite a bit of skepticism of the Apple Watch, we did also see quite a lot of love for the Moto 360.
Even though it is essentially a first generation device and doesn't really have a truly circular display, the Moto 360 is still a fan favorite. Perhaps, this is because it offers all the convenience of Android Wear at a very competitive price, while still offering a beautiful exterior and quite a lot of customization options. It does run on lesser hardware, but that isn't really a big deal, seeing how it has more than enough power to behave more than decently.
This leads us to think that smartwatch buyers still approach the gadgets from a practical perspective and might consequently be less inclined to pay a premium just for looks. This sounds reasonable, but there is also the fact that Huawei's high-end watch also gets a lot of fan love.
Anyway, all of them are pretty much still in no man's land between a gadget and a fashion accessory, along the traditional timepiece lines. With the Watch Urbane, LG is definitely leaning towards the latter. The results look promising, but it's still anybody's guess whether the new styling will be enough to draw a whole new crowd, other than geeks, which seems to be what LG is betting on.