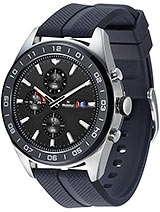 ?
seems like another abandoned wear os product. No updates in a long time and guess - will never be.
P
i have purchased this watch from amazon but it having only maximum 1.5 hours battery backup. contacted to amazon continously but they are passing me to one from others. its heating, bluetooth range is very limited approx 4 m only. also amazon having no return or refund policy for this. dont waste money. dont buy from amazon. this watch not worth for money.
T10632
I saw the review on the internet. This is an awesome phone. I love the real hands!

I wish it had a heart monitor, but aside from that it is a good watch. They reduced the price, because they thought it would be a flop, so it is a good buy. However, it is impossible to buy unless you are in the US!

a
honestly...smart phone watch is useless...
i dont care even apple iwatch sell for $20

O2
rama31, 25 Oct 2018Does LG Watch W7 have memory card slot? Unfortunately, no. As far as I have checked, the watch does not have a memory slot for memory expansions or data exchanges. Technically, for physical memories, you would have to rely on the product's internal memory, which holds about 4 gigabytes(GB). For data exchanges, the watch supports Android and iOS pairings and USB-C data cable.
Thank you, and I hope that this explanation helps.
O2
I have checked that the screen specification of the page is currently, wrongly written. According to the product's official website on the United States, the watch's screen is not based on P-OLED(Plastic OLED) technologies, but those of TFT-LCD. It is clearly mentioned that LG Watch W7 adopted LCD screens in the 'Technical Specifications' tab, that is in the product's website(https://www.lg.com/us/smart-watches/lg-W315-lg-watch-w7). For its display specifications, it is presented to be '1.2" LCD (360x360, 300ppi).'
Thank you, and I hope that the correction takes place as soon as possible.
Total of 8 user reviews and opinions for LG Watch W7.