LG X max, X speed, X style, and X power all tipped to be coming later this year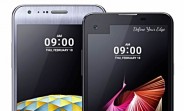 In case you missed, LG announced a new 'X' series of smartphones yesterday, revealing that two devices from the series - the X cam and X screen - will be unveiled at the MWC next week. Now, the usually reliable leakster @evleaks has revealed the names of some of the other X series phones.
LG just pre-announced the X cam and X screen for MWC. Coming later in the year: X max, X speed, X style, and X power.

— Evan Blass (@evleaks) February 15, 2016
These members are the X max, X speed, X style, and X power. While no other details about these handsets were revealed, @evleaks did note that all of them are coming sometime later this year, although no specific time-frame was announced - our guess, around 'X'-mas may be?
All devices in the X series are expected to be mid-range. So, don't keep your expectations too high. We'll share the details as soon as we hear more about them.
P
Why? Disappointed that LG is doing this - flooding the market with necessary renditions of the same phone. Stick to the G series (expensive big one and cheaper small one) and maybe the V and that's it...
?
Looks like BMW "X" line :D x1, x2, x3, x4, x99999
A
X style, sounds familiar... anyone?