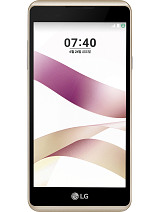 j
rich watarious, 02 Aug 2016Oh all this while almost a month only 3 user comments?not release yet thats y u cant see alot of comments
D
LG is not pioneer in mobiles. They attract customers with nice designs. But quality of components are not worth that of design.

Take deliberate decision before you purchase any LG product.
S
nothing better that a bright and beautyful cam it luk owsm that it has 13mp cam m just can't thingk haw much i lik thizz phone
----real beauty come from beautyful reflection...:)
Total of 8 user reviews and opinions for LG X Skin.