Did you know that LG was working on a couple of Android smartphones for T-Mobile - a QWERTY slider and a full-touch bar? Of course, you did. And now, thanks to a press release issued by the US carrier, you know what those will be all about.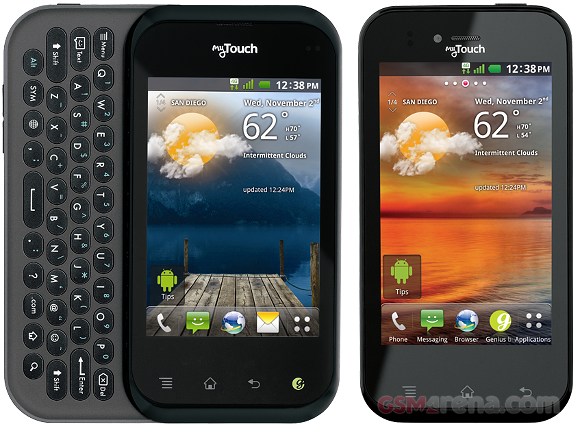 The T-Mobile myTouch Q is a Gingerbread-running full-touch droid with a 3.8" LCD that packs a Snapdragon chipset under the hood. The Scorpion CPU is of the single-core variety and is clocked at 1GHz.
5 megapixel stills and 720p video recording is what the T-Mobile myTouch camera can offer, while its network connectivity maxes at HSPA+. The press release doesn't mention if the new myTouch does 21 Mbps or 42 Mbps, though.
T-Mobile myTouch Q is a QWERTY slider with basically the same specs, but for the lower screen estate. The myTouch Q LCD only stretches to 3.5", but it retains the WVGA resolution.
Just like it keyboard-less brother, the myTouch Q runs Android 2.3 Gingerbread on a Snapdragon chipset, featuring a 1GHz Scorpion CPU. HSPA+ connectivity and the 720p-capable 5 megapixel camera are other features that the myTouch Q and the myTouch share.
The T-Mobile myTouch will be offered in either black or white, while the T-Mobile myTouch Q will have gray and violet versions. The carrier doesn't specify their exact launch dates, but according to the leaked roadmap they should be out on November 2.
g
how do i use the swap on the phone so i csn take face shoot is it in my settings
ADVERTISEMENTS