AT&T announced today that it will be converting two well-known devices to its lineup and making them 4G-capable. Those are the HTC HD7 and LG Optimus 3D.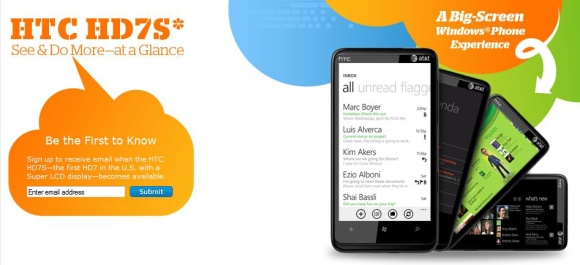 Keep in mind that in this case 4G refers to HSPA+ 21Mbps, not the real-deal LTE. Still we guess there will be many people willing to buy either.
The two smartphones are also getting new names. HTC HD7 gets an "S" to its name - HTC HD7S. And the LG Optimus 3D will be LG Thrill 4G. Pretty much nothing else is changed.
The HD7S has the same 4.3-inch LCD display, 5 megapixel snapper and Windows Phone 7 OS, as highlights.
The LG Thrill 4G has the same 4.3-inch stereoscopic display, dual-core 1GHz processor, Android 2.2 and dual 5-megapixel camera with 3D capturing capabilities both in stills and video. The LG features 1080p output regular video and 720p 3D video.
With the LG Thrill 4G AT&T will also debut the LG 3D Space, which will have 3D content, such as games, video and images.
It isn't quite sure whether the 3D Space will be a service only through AT&T or it will be available worldwide.
HTC's HD7S will be coming in the weeks to follow, while the LG Thrill 4G will be released by AT&T in the months to come. Exact dates aren't given though.
Y
Haha... good one! And it's even true! :D
?
The small phones era has gone! The bricks are returning haha.
?
dual camera means you can take 3D pictures and record 3D video something exclusive that only LG is using as a benchmark for its enterprize, oh and people don't need those features for mobile use but rather need it towards a new concept which is elimi...
ADVERTISEMENTS