With all the recent hype around the long-anticipated Android 5.0 update rumors and speculations are spreading like wild fire for an array of different devices. Naturally Samsung is among them and all eyes are on the Korean giant to deliver updates to their current device lineup.
Although nearing the end of its expected 2 year support cycle, last year's Galaxy Note 3 is by all accounts set to receive the Lollipop update. Late last month we even saw a video demo of an early build running on the device.
Since then not much else has been spoken about the ROM and frankly, given Samsung's previous update schedule the heavily customized version of Android, along with the new TouchWiz still seems a long way off, due simply to the sheer amount of work that has to be put into transforming it to that traditional Samsung flavor of the OS.
A new rumor regarding the Lollipop update has surfaced today on samsungviet.vn and one that appears to be very credible and backed up by photos as well as a convincing story. A user on their blog uploaded photos of what he claims is his SM-N900U unit running Android 5.0. The way he acquired it was by his own account from the website samsung-updates.com, where the build was supposedly uploaded by accident and then immediately taken down, but apparently not fast enough and this photo was provided as proof.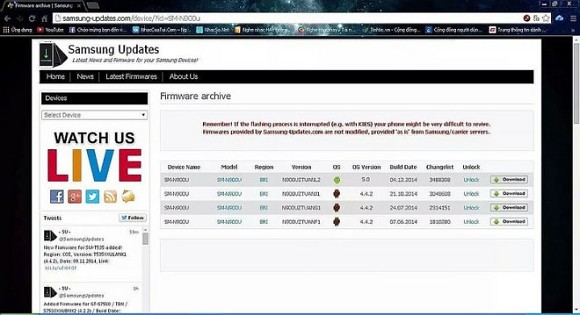 However the ROM itself has not leaked and the screencap, despite its tiny resolution does poke significant holes in the story. Opening the URL visible in the browser window we indeed find a collection of updates for the Exynos Galaxy Note 3 and, unsurprisingly no version 5.0 ROM.
Looking closely at the evidence we can't help but notice that the only thing that seems to differ between the current most-recent update and the Lollipop build in question is the OS Version column.
Everything else from the build number all the way to the date and the change list are surprisingly identical. Furthermore the build number on the handset screen does not match the one on the site.


At this point it seems very plausible that the whole story is based on some rather lazy and nearsighted Photoshop work. The other option is that there was a genuine mix-up and one lucky individual got hold of what truly is a functioning Android 5.0 for the SM-N900U and is now being less than generous to the internet by not putting it out in the open. In any case this information should definitely be taken with a grain of salt.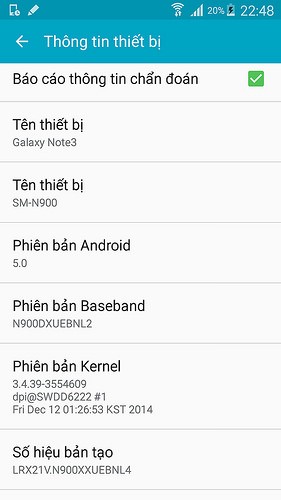 D
When Lollipop Android for Galaxy Note 3 sm-n9005 available?
?
That update was about minor bug fixes in their code. By the way go to Settings->About phone-Tap "Build number" 5 times, go back to settings, go into "Developer Options" tap "Select Runtime" select "ART" pres...