Smartphone users in the European Union have reason to celebrate as the European Commission's goal to abolish roaming fees have come one step closer to reality.
Starting July 1, the highest possible charge for making calls drops 21% from €0.24/min to €0.19/min, while receiving calls will drop from €0.07/min to €0.05/min. Texting will also drop from €0.08/message to €0.06/message, while the most significant decrease will be regarding mobile data usage, where we'll see a whopping 55% decrease from €0.45/MB to €0.20/MB.
All prices are without VAT, but are maximum retail charges, meaning carriers can go lower if they choose to do so.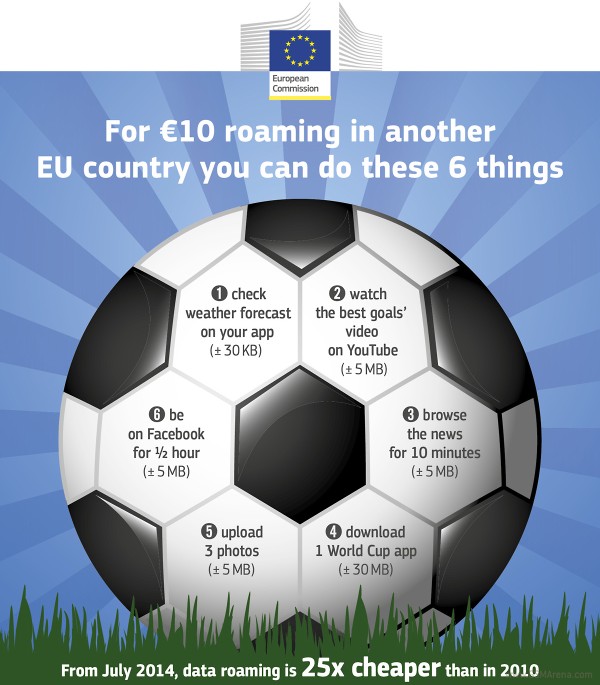 Last year, European Commissioner for Digital Agenda Neelie Kroes announced her campaign to end roaming charges in the EU by 2014, including a plan to move a complete telecoms package for all of the EU by Easter this year.
This latest legislation is one step in that direction, gradually allowing telecoms to compensate for the loss in revenue from roaming charges.
Another important issue which the EC hopes to address is net neutrality. By not allowing ISP's to restrict speed or services such as torrents to users, the Commission hopes to enforce all providers to allow the same quality of service to all member states of the European Union.
E
It is a mobile data price in roaming. It is reasonable and is going to be even cheaper.
c
Yeah grea, they cut the roaming charges that maybe 10% of us were using and the next day they added aditional charges to 100% of us calling it tax for using the network. Amazing job european commission. Tell you what, please dont lower any more charg...
I
Such ridiculous pricing and that too in europe, compare this to 4.00 Euro/GB in India, considering that the technology has been there in Europe for years now and reasonable competition, the prices should be more reasonable.