Major retailer accidentally leaks Bose QuietComfort 45, a pair will cost you $330
The Bose QuietComfort line of headphones is lauded as some of the best when it comes to comfy fit and excellent noise cancellation. However, the QC 35 II are getting quite old at this point and competitors have delivered improved designs to the market. Bose will soon do that as well – the next generation of over-ear cans are nearly here.
They passed through the FCC and earlier today they were accidentally published on Staples.com (as spotted by WinFuture). The store listing indicates that the Bose QuietComfort 45 will improve on the most important areas – ease of wear, battery life and that all-important Active Noise Cancellation (ANC). Back in 2018 when we pit the QC35 II against Sony's WH-1000XM3, we found that the Sonys had the edge. And the XM4 launched in the meantime.
The QC45 will be "shockingly light" with a glass-filled nylon construction, cast-metal hinges and synthetic leather exterior. The earpads will be particularly soft and Bose is sticking with a wide headband design for a comfortable fit.
Battery life will increase to 24 hours, up from 20 hours on the QC35 II (this is with ANC enabled). Interestingly, the battery will be slightly smaller at 460 mAh (down from 495 mAh), which probably helped save some weight.
Plugging in a USB-C charger for 15 minutes will pump in enough energy for 2.5 hours of listening time. The headphones will also be usable with a 3.5 mm cable, but these are primarily meant for wireless use.
To that end, there's a Bluetooth 5.1 connection. The previous model already supported multipoint connections so this one should as well. Bose will stick with physical-only controls, which is great news for those who find touch controls too fiddly.
The leaked info claims that the QuietComfort 45 will have improved noise cancellation with microphones inside the earcups to guide the ANC algorithm. Aware Mode will allow you to hear your environment while continuing to enjoy your music The new TriPort acoustic architecture will vent each cup to provide a deeper sound while keeping the physical dimensions small. Also, there's a "volume-optimized" Active EQ that adjusts the equalizer settings, so that, for example, bass remains consistent even when you turn the volume down. The settings can be tuned in the Bose Music app for phones.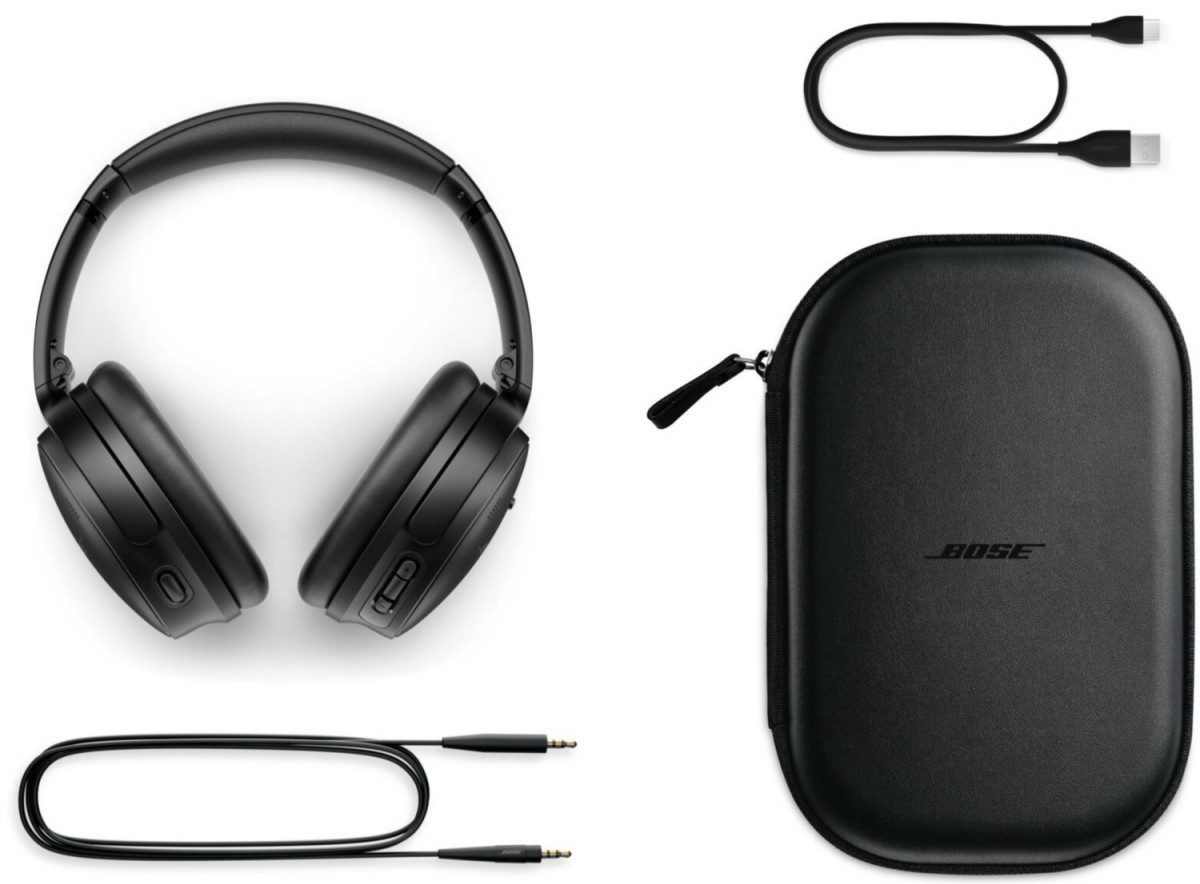 The Bose QC45 retail package will include a USB A-to-C charging cable, audio cable and carrying case
The Bose QuietComfort 45 should be available soon, considering they were leaked by a major US retailer. As for price, a pair will cost you $330, a bit more than the QC35 II model (which were $300 at launch and are less now).
?
Kindly improve life the synthetic ear cup material Continuous usage in warm weather / tropical countries weaken the earcup material and they end up tearing on the 35 The 45 needs longer lasting material suitable for tropical climates
?
This ones, just tested the Sony you mentioned and they loose a lot of bass at the higher volume. Not great, on the other hand the bose 700 don't have such a high bass but it's consistent without loosing quality. Having said that I'm wa...
ADVERTISEMENTS