Here is some great news for those in Malaysia: The Xiaomi Mi 6, along with the Mi Max 2, are both going to be available for pre-sale starting at 12PM on July 31. Xiaomi has posted the official news on its Malaysian Facebook page.
The banner doesn't mention any specific pricing or release date, though the proof can be found on one of the retailer's websites. Lazada's Malaysian page shows the Mi Max 2 as "Coming soon" with an ETA date between Aug 5 and Aug 10, this listing is with a third-party seller. The price of the Mi Max 2 will be RM 1,199, according to this seller.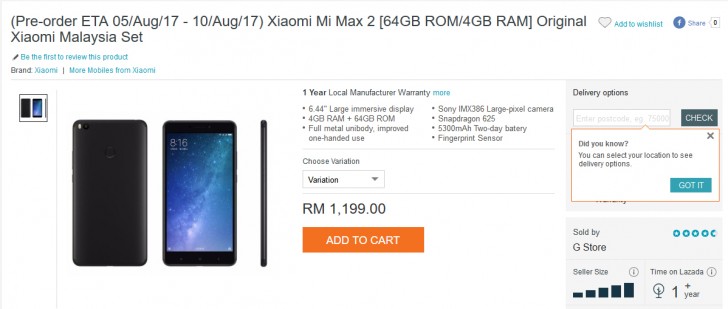 While the Mi Max 2 appeared on Lazada's website, there was no sign of the Mi 6. But thanks to a Facebook commenter, it looks like Lazada did have the Mi 6 listed but then later took it down. That listing showed the Mi 6 starting at RM 1,899 for the 6GB RAM + 64GB storage variant.

We'd assume both devices will arrive to Malaysia at the same time, so it looks like an August 5 - August 10 release date is entirely possible for the Mi 6.
Thanks for the tip!
C
Guys head up to DirectD, they have it already, not sure about price difference though
?
MIUI is a heavy UI, 2GB is not enough, my aMi3 with 2GB RAM can barely run the MiUI 8 UI, frequently the entire screen need to restart when certain apps hang eg. Pokémon Go, sometimes even Waze & WeChat hangs. 4GB should be the minima...
?
What of it? Benchmark scores are mainly for developers. Outside of that, benchmarks are for bragging rights, and are the stuff of pathetic pub arguments.