According to newly released research data from Market Monitor, Apple is the top smartphone supplier in the United States in Q1 this year. Samsung on the other hand, is the top handset supplier in the country.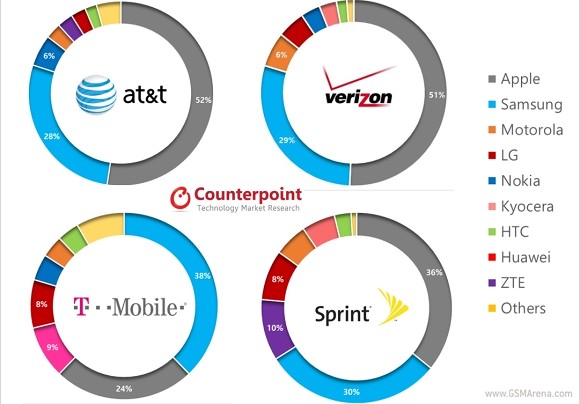 As you can see above, the research data shows that Apple dominates the country's largest carriers AT&T and Verizon in terms of smartphone market share with over 50% in both cases. The iPhone is also the most popular smartphone on Sprint, while Samsung has the lead on T-Mobile with 38% against 24% for Apple.
Unsurprisingly, Market Monitor data shows that Apple and Samsung hold more than two-thirds of the US smartphone market. Furthermore, the duo of giants combine for more than 70% of all LTE device shipments.
Overall, the US smartphone market hit 33 million units in Q1 this year. It has grown by only 7% on an annual basis, yet it accounts for over 87% (highest ever) of all handset shipments.
?
Original guy was wrong. He was making things up because he didn't like the report. Why don't you actually look at the source material before believing random people on the internet.
D
Lots of Korean tourists here, surprisingly many of them had Xperia phones the last year or so, and very many of them have iPhone. Didnt see even one with LG, i think its because LG phones are mainly sold with carrier subsidy in Korea, through LGs own...
D
Well mr sharpest tool in the shed when all the other tools are away on vacation, get ready for the teaspoon, hope i will not serve it to you in too big and mysterious doses. The last line is meant to be more serious and means to say that his research...