Starting today we will try to deliver you information on the latest (and greatest) mobile phones that hit the stores on a weekly basis. This is the first article of this kind and we will consider it experimental since its future depends solely on your interest on the matter. Unfortunately, we won't be able to comment local availability in stores near you, as well as on carrier-subsidized prices. It's going to be an intense season as many phone makers make their long-waited handsets available in the months right before Christmas.
Nokia N95 8GB
Probably the most exciting of all was the news of Nokia N95 8GB Edition that starts shipping. It comes dressed in black and has undergone several changes. The main one of course is the thrilling memory capacity of 8GB. The screen has also grown up from the 2.6" of the original to 2.8" in the new edition. The display still supports QVGA resolution and visualizes up to 16M colors. Nokia N95 8GB is powered by 1200 mAh Li-Ion battery as opposed to the rather modest 950 mAh in the original Nokia N95 - hopefully the new battery will be able to deal better with the phone's energy needs. The weak battery was probably the most criticized feature of the original N95 model. The higher capacity battery on the other side has resulted in removing the lens cover. Finally, another significant change in the smartphone's hardware has been made - the RAM is now double the size of the original to improve user experience with the browser or with multiple applications running in the background. Nokia N95 8GB's expected retail price is EUR 560 (USD 780) before taxes or subsidies. Currently, it can be found online for around EUR 570 (USD 810).
LG KU990 Viewty
The next to go on our Market Update for week 43 is the LG KU990 Viewty. Stylishly reminiscent of the glossy LG KE850 Prada phone, it features full touch-control interface and a 5 megapixel autofocus camera with xenon flash. The LG KU990 Viewty has a large 3" 262K color TFT touchscreen display with a 240 x 400 pixels resolution and boasts a 5 megapixel camera with Schneider-Kreuznach optics, image stabilization and xenon flash, yet capable of shooting quality video clips with up to 120 fps. It is up to the user to choose from shooting in auto focus or manual focus mode with ISO sensitivity of up to ISO 800. The LG KU990 is also equipped with a secondary VGA camera for making video calls as the device features HSDPA 3.6 Mbps. Storing images, tracks, clips or files is easy with the onboard 100 MB memory, expandable up to 2GB through the microSD memory card slot. Music fans will enjoy the music player and FM radio, while in the same time you will be able to watch DivX videos on the large 3" display. The LG KU990 connectivity capabilities include Bluetooth 1.2 with A2DP support and USB 2.0 High-speed. You can check our in-depth review. Currently, it can be found online for around EUR 420 (USD 600).
Nokia N81 8GB
Another 8GB Nokia handset is going to make it for the holidays as Nokia N81 is already started shipping to stores. The first edition of the Nokia N81 is a vanilla one that comes with a microSD slot and a 1GB or 2GB microSD card in the retail package, while the second one is called Nokia N81 8GB and flaunts the whopping 8GB of internal storage. You can check our preview. Both will have 2 megapixel cameras with flash (no auto focus, sorry folks) for making snapshots or shooting VGA videos at 15fps and a secondary CIF camera for video calls. There is also a microUSB port and an audio/video 3.5 mm port. The Symbian-based Nokia N81 smartphone comes quad-band GSM/EDGE and UMTS enabled and stands at 17.6 mm thickness and 140 g of weight. It boasts a 2.4" TFT display with QVGA resolution, stereo Bluetooth, Wi-Fi with UPnP (Universal Plug and Play) support and dedicated gaming keys. It also has a touch-sensitive Navy wheel, which makes picture and video browsing a real pleasure. The vanilla Nokia N81 is still not available but it's expected to retail at 360 EUR (USD 500) before subsidies or taxes. The estimated retail price of Nokia N81 8GB is 430 EUR (USD 600) before subsidies or taxes. Currently, the Nokia N81 8GB can be found online for around EUR 540 (USD 770).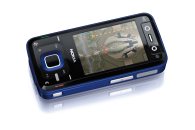 The Nokia N81 gaming phone with Wi-Fi and 8GB memory
Samsung i620
The Windows-Mobile-powered Samsung i620 is also available now sporting a sliding QWERTY keyboard. This new slider has a 65K color TFT display with a QVGA (320 x 240 pixels) resolution, 2 megapixel camera and a second VGA video calls camera. The integrated memory is 80MB and is further expandable through a microSD memory card slot. Other features of the Samsung i620 include Bluetooth v2.0, USB support, 3G and HSDPA connectivity. Another great feature is the presence of Wi-Fi. Currently, it can be found online for around EUR 430 (USD 620).
Nokia 5610
The Nokia 5610 XpressMusic is another handset that's already available. It's targeted at the music lovers as the name suggests and it comes in the slider form factor. The music-centric device comes with a built-in dedicated audio chip and the manufacturer is promising up to 22 hours of non-stop playback. The Nokia 5610 is based on the Nokia S40 platform and sports a 3.2 megapixel camera with 2-step shutter key and LED flash. The 2.2" 16M TFT display supports QVGA resolution (320 x 240 pixels). The integrated memory is only 20MB but it is expandable through the microSD card slot (a 512MB or 1GB card included in the retail package). The connectivity capabilities include a microUSB port and stereo Bluetooth (A2DP). There is also a variety of choices when it comes to network connectivity - GPRS, EDGE and UMTS are supported. Nokia 5610 XpressMusic is going to work well with all four GSM bands and two UMTS ones (850/2100 Mhz). The phone was estimated to retail at EUR 300 (USD 420) before subsidies and taxes. Currently, it can be found online for around EUR340 (USD 485).




The Nokia 5610 XpressMusic slider
Nokia 5310
The Nokia 5310 XpressMusic is a music-dedicated handset based on the Nokia S40 platform. It features a 2.0" QVGA TFT display with ambient light sensor, stereo Bluetooth, and a 2 megapixel camera. The 5310 stands at only 9.9 mm thickness and weighs only 70.2 g which makes it one of the most compact devices by Nokia. The quad-band Nokia 5310 has 30MB of internal memory and a microSD memory card slot. Depending on the market a memory card of capacity up to 2GB will be included in the retail package. The mobile sports stereo Bluetooth (A2DP) and a microUSB slot when it comes to connecting other gadgets and GPRS and EDGE, when network connectivity is involved. Equipped with a dedicated audio chip and 3 dedicated music keys Nokia 5310 should be able to provide up to 18 hours of music playback time. The Nokia 5310 XpressMusic was supposed to hit the market at an estimated price of EUR 225 (USD 315) before subsidies and taxes. Currently, it can be found online for around EUR 260 (USD 370).
Nokia 3500 classic
The Nokia 3500 classic is a mid-range tri-band GSM candy bar phone with everyday use features like FM radio and a 2 megapixel camera. It has a phonebook with a capacity of 2000 contacts and connectivity-wise features a miniUSB port and a 2.5mm Nokia audio/video port. Being a lower mid-range solution, the Nokia 3500 classic offers a 262K color TFT display with a resolution of 128 x 160 pixels and it is equipped with microSD card slot. The nice thing about it is that it weighs only 81 g and is only 13,1mm thick (which is not bad for a Nokia handset). The Nokia 3500 classic was expected to retail at around EUR 135 (USD 190) before subsidies and taxes. Currently, it can be found online for around EUR 150 (USD 210).
J
I used to hav e the N95 and it was special to me. i used it to splash someone's eye
l
these mobiles r very impressive and i want to know only that its prices.
T
Good concise, up to the minute info. Keep it coming folks!
ADVERTISEMENTS